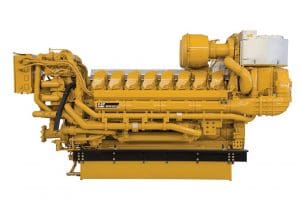 Cat C175 Designed to Drive More Profitable Vessel designs
Caterpillar today introduced the Cat® C175-16 marine propulsion engine at a size, power and rpm that will drive new, more profitable vessel designs for all segments of the marine industry. The latest in a line of high performance engines designed to meet EPA Marine Tier 3 and IMO Tier II emissions requirements, the C175-16 is rated at 2001 – 2168 bkW @ 1600 rpm and 2239 bkW – 2550 bkW @ 1800 rpm. The new propulsion engine extends Caterpillar Marine's high-speed engine power range beyond the company's already industry-leading 3516C-HD engine.
The C175 engine is already being offered in non-road applications to meet EPA Tier 4 requirements.  Ideal for offshore support vessels, tugs, and workboat applications, the C175-16 features technology advancements and updates to ensure maximum productivity and minimal environmental impact.
"The C175 marine propulsion engine has been designed to improve total vessel profitability by providing durability with unmatched power output to ensure our customers can maximize profit in their offshore and commercial operations. It is the new industry standard in terms of hard-working, revenue-producing power, " said Bob Hallengren, Caterpillar Marine Power Systems product director. "Naval architects can design vessels around the Cat C175 engines with the confidence these engines will deliver in terms of power and load carrying capability."
The C175-16 utilizes proven ACERTTM Technology. Cat ACERT engines feature optimized turbocharging and aftercooling to provide reliable maximum power output. Efficient combustion reduces engine wear and maximizes fuel, driving the C175-16 to pull the maximum amount of energy from each injection event.
The engine also features the Cat common rail fuel system enabling low emissions at all levels and requires no aftertreatment to comply with regulations. In addition to a 1, 000-hour oil change interval, thermo-laminated heat shields save time and money during service. All factory-packaged components are supported by Caterpillar warranty.
"This engine is a great choice for vessel owners and designers who want to gain greater productivity from their vessels while significantly minimizing their environmental impact, " said John Shock, Caterpillar Marine Power Systems offshore segment manager. "The new C175-16 features a number of enhancements that will improve overall engine life while reducing the cost of ownership."
With a bore of 175 mm (6.9 in) and a stroke of 220 mm (8.66 in), the C175-16 is highly efficient while providing increased propulsion output in a high speed engine platform. Additional features include:
• Turbocharged and aftercooled aspiration
• MCS approved monitoring, alarm, and protection system
• Cross-flow head design
• Simplified electrical system
The new C175-16 is backed by a Caterpillar warranty and the best service network in the industry. The global Cat dealer network means customers can count on the service and support they need for their marine engines no matter where their vessel is located. For more information, visit marine.cat.com.