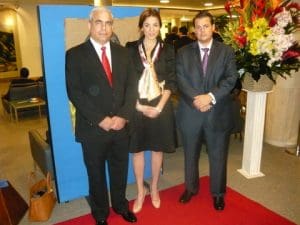 Panama's big do!
On the occasion o the 27th Regular Session of the IMO's Assembly many delegations gave receptions and parties in various well known venues in London. Greetings the guest where Roberto Linares, the Ambassadress of Panama Ana Irene Delgado and Alfonso Castillero (pictured).
The  Panamanians once again did it and had by far one of the best ever events  with live music and dance, great dips and drinks at the Delegates' Lounge at the IMO! And what about  the "rolling" crowd returning back again after participating in other nation's celebrations!  Who wasn't there!
Dance till the end the name of the game; well done!