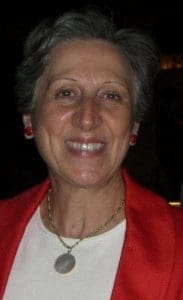 How my craftwork sews a seam of hope for disadvantaged children in Africa. By Graciete Amaro
During my former career in liner agency in London, I had a good deal to do with the African trade. Having been born in Portugal, I was blessed with a valuable linguistic asset which enabled me to communicate readily with ship managements and crew from the former colonies of the great European maritime nation.
These days I have an association of a different kind with one particular African country, and one which brings into play my passion for sewing and craftwork.  The country is Mozambique, and I am a fund raiser and supporter of a charity called Meninos de Nampula (children of Nampula). The province of Nampula might seem a remote place to anyone working in the City of London, or indeed in trade and commerce in many parts of the world, but the Ilha de Moçambique, 175 km from the provincial capital, also named Nampula, has been described as the birthplace of the nation of Mozambique. Around one in 10 of the 3.8m people of Nampula province live in the capital, the third largest city in Mozambique after Maputo and Beira.
The city is 150 miles inland, and connected by air to Maputo, which has been capital of Mozambique since 1898 and is the country's most important seaport. Until 1975 the capital was known as Lourenço Marques. Today Nampula – a centre for agricultural produce such as mango, avocado, banana and coconut – is on a rail line connecting the ports of Lumbo and Nacala with Malawi. Despite the fertility of this part of northern Mozambique, there are as in so many other parts of the world some very poor people, and the religious order As Irmãs da Apresentação de Maria (Sisters of the Presentation of Mary) undertakes the schooling of underprivileged children, relying on sponsorship and good will from a group of friends of which I am one.  The money goes towards education, food, books, clothing and much more, and I am proud that the charitable sale of my work has contributed to this. The Sisters is an order founded in 1796, and has 1, 500 adherents in 20 countries.
In contrast to my commuting days, my dedication to sewing, painting and other creative activities now takes up much of a typical day. So much so, that I have dubbed my sewing world 'bagmania.'  Having collected reams of fabrics on my personal and professional travels in recent times, I began by making small drawstring bags, some in printed materials, and others plain, to which I apply various of my own 'trademark' motifs.
These range from hearts, buttons and cupcakes to my latest design, a hand-drawn shoe, on bags that can be used either for shoes or toiletries.
It was not long before I branched out into other products, including towelling bibs decorated with pretty braids, tissue bags, cards, bookmarks, peg bags and cushion covers. Some of the proceeds I donate for family reasons to another charity, the Motor Neurone Disease Association which furthers research and relief in relation to MND, the ailment which afflicts among others the brilliant scientist Professor Stephen Hawking.