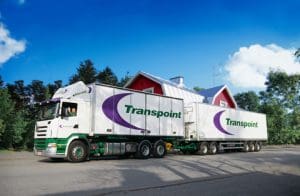 Greencarrier Freight Services has acquired a majority shareholding in the leading logistics service provider in Poland, Transpoint International. The shares have been purchased from the Managing Director of Transpoint in Poland, Mr Arkadiusz Prejna, who will retain the remaining shares. With this acquisition the Swedish-headquartered logistics specialist Greencarrier has established an even stronger position in the Nordic and Baltic Sea regions. Transpoint in Poland provides cross-border transportation services, delivering parcels and part- and full loads between Finland, Scandinavia, the Baltic States, the UK, Turkey, the Czech Republic, Slovakia and Poland.
"This acquisition is in line with Greencarrier Freight Services' strategy to be the best transport solution provider having the Nordic and the Baltic Sea regions as its domestic market, " says Peter Nevhagen, CEO of Greencarrier Freight Services International. "Transpoint International is a perfect match for us since Poland has been a white spot on the map for Greencarrier until now."
The acquisition consists of Transpoint in Poland and its subsidiaries in the Czech Republic and Slovakia. The company brings approximately 80 new and highly competent employees each with strong experience of the logistics market, to serve Greencarrier's customers in this region.
"Greencarrier Freight Services is an ideal partner for us with its network of offices in our major markets in the Nordic countries, the Baltic states and the UK" says Arkadiusz Prejna, who will continue as the Managing Director of Transpoint in Poland. "Together with Greencarrier we plan a continuous expansion of our business activities not only in road freight but also in ocean and air freight."
Greencarrier Freight Services offers complete transport solutions all over the world. The company was founded in 1994 and belongs to the Greencarrier group, which is one of the Nordic region's largest privately owned companies specialising in global transportation. With the acquisition of Transpoint International, Greencarrier Freight Services will reach a turnover of 175 million euros and have more than 425 employees in 13 countries: Sweden, Norway, Denmark, Finland, Estonia, Latvia, Lithuania, Ukraine, Poland, Slovakia, the Czech Republic, the UK and China. The Greencarrier Group as a whole now employs more than 700 people within these countries and has a turnover of 336 million euros.