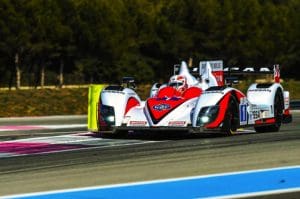 Young star to compete in Le Mans 24 hour race with racing legend father
29 March 2012 – GAC has renewed its sponsorship of rising motor racing star Alex Brundle, the 21-year-old son of Formula One™  legend Martin Brundle, for a fifth consecutive year. Alex was a schoolboy competing in junior single-seater races when GAC first signed him.
His 2012 season gets underway this weekend at Paul Ricard in the South of France driving a Zytek Nissan LMP2 car at the first round of the European Le Mans Series. The GAC logo will be on show on Alex's Carlin GP3 car as he races alongside Formula One™ teams at every European Grand Prix race, including Monaco. In mid-June, Alex will be joined by his 53-year-old father Martin for the famous Le Mans 24 hour race, when together with Lucas Ordonez they will be aiming for victory in the fiercely contested LMP2 class.
Alex says:
"I am delighted to have the support of GAC, once again, for my racing programmes in 2012. They have shared my passion and dedication to motorsport through our long-standing relationship and it brings me great pleasure to carry the GAC logo onto the professional stage again."
Martin Brundle, former Le Mans 24 hour winner, adds:
"It's going to be a special experience to return to this great race alongside Alex. I'm so pleased that our longstanding partners GAC will be there to share the adventure, they are a natural fit in the high speed high tech world of motorsport."
GAC's Executive Group Vice President, Commercial, Bill Hill says the Group's continued support of the young racing driver demonstrates its long-term commitment to excellence, both on the race track and in its business. Many of the qualities that make a winning motor racing team can be seen every day in GAC's operations – cooperation, high performance, dedication, professionalism, meticulous planning, attention to detail, ability to respond at a moment's notice.
About the GAC Group
GAC is a global provider of shipping, logistics and marine services. These services are constantly being refined and integrated to serve our customers' increasing need for competitive solutions. Emphasising trust, reliability and a strong human touch, GAC has been building its reputation in its chosen markets since 1956.
Headquartered in Dubai, GAC employs over 9, 000 people in more than 300 offices worldwide.