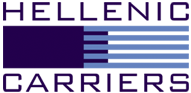 4 May 2012 – Hellenic Carriers Limited, ("Hellenic" or the "Company") (AIM: HCL), an international provider of marine transportation services for dry bulk cargoes, today announces that the Annual Report for the year ended 31 December 2011, along with the Notice and Proxy of the Annual General Meeting were posted to shareholders.
The Company will hold its Annual General Meeting on 30 May 2012 at 11:30am local time at Piraeus Marine Club, 51 Akti Miaouli, Piraeus 185 36, Greece. Copies of the Annual Report and the Notice of Annual General Meeting are available free of charge from the Company's Secretary at the Company's Registered Office at: 28-30 The Parade, St Helier, Jersey JE1 1EQ, Channel Islands These documents can also be found on and can be downloaded from the Company's website www.hellenic-carriers.com.
For further information please contact: Hellenic Carriers Limited Fotini Karamanlis, Chief Executive Officer E-mail: info@hellenic-carriers.com +30 210 455 8900 Panmure Gordon (UK) Limited Andrew Godber +44 (0) 20 7459 3600 Capital Link Nicolas Bornozis +1 212 661 7566 (New York) Eleni Theodoropoulou +44 (0) 20 3206 1320 (London) E-mail: helleniccarriers@capitallink.com
About Hellenic Carriers Limited
Hellenic Carriers Limited manages through Hellenic Shipmanagement Corp. a fleet of dry bulk vessels that transport iron ore, coal, grain, steel products, cement, alumina, and other dry bulk cargoes worldwide.
The fleet consists of five vessels, comprising three Panamaxes, one Supramax and one Handymax with an aggregate carrying capacity of 303, 141 dwt and a weighted average age of 16.6 years plus two new building Kamsarmax vessels currently on order, with an aggregate carrying capacity of about 164, 000 dwt.
Following the delivery of the 68, 591 dwt Panamax M/V Hellenic Sky to her new owners at the basis of a signed MoA, the Company's fleet will consist of two Panamaxes, one Supramax and one Handymax with an aggregate carrying capacity of 234, 550 dwt plus two Kamsarmax vessels on order. Hellenic Carriers is listed on the AIM of the London Stock Exchange under ticker HCL.