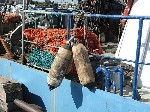 Maritime unions have widely welcomed the decision by the New Zealand government to ban foreign-owned vessels from fishing in its waters. The move, based on concern about the exploitation of crew on foreign-flagged vessels, means that foreign charter vessels fishing in New Zealand waters will have to fly the New Zealand flag – giving crewmembers the protection of that country's labour standards.  
Maritime Union of New Zealand (MUNZ) general secretary Joe Fleetwood explains that fishing vessels catching New Zealand quota will have to comply with New Zealand employment, health and safety and labour laws once the policy comes fully into force in four years' time.
The MUNZ has campaigned for many years for stronger regulation of the country's fishing industry, and has worked with the ITF to assist many foreign crewmembers who have been victims of unethical and sometimes illegal practices on board foreign-flagged vessels.
Jon Whitlow, secretary of the ITF fisheries section, described the move by New Zealand as "welcome, right and overdue. Scandal has followed scandal in this area in recent years, including grave instances of crew abuse. We congratulate the MUNZ and all those who pushed for this reform."
For more information about the ITF's work with the International Union of Food Workers to protect fishers around the world, go to From catcher to counter.