S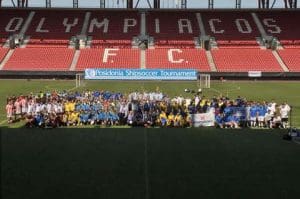 ome 250 shipping executives from 24 companies unraveled their football talent on the turf of Greek Superleague champions Olympiacos during the Posidonia Shipsoccer Tournament, the last of the three sporting events which comprised this year's recreational and networking calendar of the Posidonia 2012 Exhibition week.
The five-a-side event, which was organized by Posidonia Exhibitions S.A and Naftiliaki Filathliki Enosis, attracted over 300 spectators who enjoyed a football feast full of goals and spectacular action that culminated with the victory of Diamantis Pateras Maritime in the final against International Paint. Third place went to Deloitte.
Diamandis Pateras of was delighted with his team's win and enthusiastic about the event. "Once again, Posidonia has surpassed our expectations with its superb series of fun and interactive networking events. It is great to see so many of our colleagues from around the world and we remain deeply committed to Posidonia Shipsoccer Tournament which we hope it will continue to grow for years to come. "
The event reached its climax with a reception and an awards ceremony which also served as a first class networking opportunity for the attendees less than 24 hours before the official opening of Posidonia 2012.
Off the field, participants were full of praise for the event and its contribution in promoting camaraderie between different companies while forging team spirit amongst colleagues.
"Football is an international language which talks at the hearts and minds of men and women from around the world, irrespective of nationality, cultural background or religion. Similarly, shipping is a global business which unites people in so many different levels and aspects, this is why the Posidonia Shipsoccer Tournament is such a great combination, " said George Gabriel of Golden Union Shipping.
"It is great to see so many teams from different countries and continents participating in this event which brings together the world of shipping for a few hours every two years in such a great football venue. It provides ample entrainment and plenty of networking opportunities for all Posidonia exhibitors who participate and we are extremely proud to be involved, " said Aristedis Pittas of Eurobulk.
Posidonia 2012 is sponsored by the Greek Ministry of Development, Competitiveness and Shipping, the Municipality of Piraeus, the Hellenic Chamber of Shipping, the Union of Greek Shipowners, the Greek Shipping Co-operation Committee, the Hellenic Shortsea Shipowners' Association and the Association of Greek Passenger Shipping Companies.