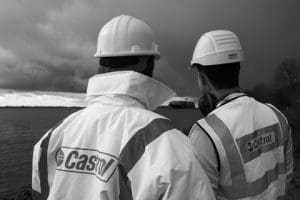 Castrol Marine has extended its cylinder oil range to address concerns about engine damage and performance as slow steaming
The specialised marine lubricant supplier has launched Cyltech 80 AW, an 80 BN (base number) cylinder oil. The Cyltech range has been developed for optimum engine protection in 2-stroke crosshead engines and specifically to match engine performance with the demands of varying sulphur fuels and the impact of slow steaming. Castrol says this premium product is the logical next step in assuring ship owners that the right lubricant is available to meet vessel needs in all operating conditions. The Cyltech brand now spans the 40 – 80 BN range, which is the widest of all marine lubricant suppliers. "Our customers face ever tightening regulations on the environment, but also new operational challenges brought about by slow steaming, " says Luigi Tedesco, Castrol Marine Chief Executive.
"Cyltech 80 AW offers a proactive response to new industry realities." As a result of research, field trials and engine inspections, Castrol believes that each vessel should use a single cylinder lubricant based on that vessel's predominant operating conditions. Where 40 BN cylinder oils may suit vessels permanently operating in Emissions Control Areas, the supplier has concluded that those of 70 – 80 BN are better suited to vessels regularly slow steaming and on international trade, even those involved in frequent ECA transits. "Any imbalance between cylinder oil feed rate, BN and power compromises engine efficiency, " says Paul Harrold, Marine and Energy Technology Manager.
"Slow steaming may bring lower lubricant feed rates and, when higher sulphur fuels are used, a higher lubricant BN protects the engine against potential damage. It also limits the amount of burnt cylinder oil in exhaust gases, thereby cutting emissions." Cyltech 80 AW will initially be available via Castrol's main regional distribution hubs from early June 2012.
"It is critical for owners that the right cylinder oil is readily available for use to protect performance and vessel safety, particularly in prevailing commercial conditions at a time when they face tighter environmental regulation than ever before, " says Jonathan Hutchinson, Castrol Marine Global Marketing Manager. Both slow steaming and sulphur content have direct consequences for fuel efficiency, maintenance costs, lubricant consumption and environmental responsibility, says Mr Harrold.
"The pressure is on lubricant suppliers to show that new cylinder lubricants to the market are tested in all extremes, and not just in the conditions that suit their products, " says Mr Harrold. "We know from field experience that Cyltech 80 AW provides improved neutralisation capacity, and hence better corrosion protection across the fuel sulphur range while slow steaming than a mid BN lubricant." OEMs have acknowledged the fundamentally changing demands on cylinder lubricants caused by slow steaming, particularly in large bore engines.
Wärtsilä recently advised customers with engines of 80cm bore and above to increase feed rates because corrosion problems have been observed when slow steaming. Cyltech 80 AW is approved by both MAN Diesel and Wärtsilä. It is the only product approved by Wärtsilä for use at minimum feed rates for fuels up to 3.5% sulphur. "We are not suggesting that a ship has to carry a range of cylinder oils. In fact, the majority will carry only one, depending on their engine and voyage operating pattern, " says Mr Harrold.
"We want to make sure that our customers get the right answer and the right single lubricant solution for each vessel based on that vessel's predominant operating conditions. "By selecting the right cylinder oil for the right operating conditions, slow steaming customers can use less fuel confident in the knowledge they are not risking damage to their engine, and that is why we now recommend Cyltech 80 AW for many customers."
This successful Castrol Marine press and customer event, launching their new ground-breaking cylinder lubricant, meticulously organised by j-l-a's Debbi Bonner, took place at the Sofitel Airport Hotel Athens, just five minues aaway from the Metropolitan Expo Centre where Posidonia 2012 takes place.