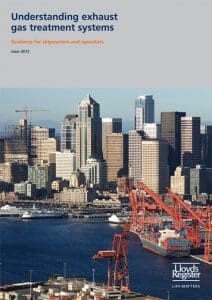 Guide provides owners and operators with technical information they need to find cost-effective solutions
Lloyd's Register's has published a new guide, Understanding Exhaust Gas Treatment Systems, to give shipowners and operators an overview of the related technology and emerging regulations they need to make sound business decisions.
The technical teams at Lloyd's Register worked closely with industry and used project experience to develop the guidance. Exhaust gas treatment systems (EGTS), or scrubbers as they are known, are one of a number of options available to meet ever stricter emissions regulations. EGTS will not be suitable for all ship types or operators, and the age of assets also will be a factor in making commercial decisions.
"The implications of emissions compliance will vary from owner to owner; for example, the needs of a Baltic ferry operator are likely to be very different to those of a bulk carrier owner whose ships trade globally, " said Katharine Palmer, Lloyd's Register's Environmental Manager. "For us, it's not a question of being for or against these treatment systems. It's all about building understanding of how scrubbers work, when they may be suitable, and providing operators with the information and confidence they need to make investment decisions."
With new technologies emerging, providing the right support throughout the decision-making and design process is critical, says Palmer, who adds that the guide provides a clear picture of the technical realities involved in installing and operating EGTS, using case studies and real-world examples.
The challenge of meeting emissions-compliance requirements and reducing ship-energy consumption are closely related, she says.
Earlier this year, Lloyd's Register introduced its ECA Calculator, a cost-scenario modelling tool, to help the industry to identify cost-effective routes to emissions compliance. The new EGTS guide is further support to the industry at a time when owners and operators are preparing to decide on compliance strategies.
The EGTS guidance provides technical insight and, together with the ECA Calculator, are the latest products from Lloyd's Register to support the industry with the dual challenges of compliance and energy management.
The guide was developed with the support of the Shipping Emissions, Abatement and Trading (SEAaT), an organisation comprising owner-operators who are looking for cost-effective compliance solutions.
"SEAaT is happy to have assisted in the development of this very useful and timely guide to the issue of shipboard exhaust gas treatment, " said John Aitken, SEAaT's General Secretary. "As regulations concerning vessel emissions to air become more stringent, this guide will be of considerable assistance to ship owners and operators as they look for the most cost-effective means of compliance."
Receiving your copy of the EGTS Guide
TheGuide is available as a pdf here — http://www.lr.org/sectors/marine/documents/240772-understanding-exhaust-gas-treatment-systems.aspx— or hardcopies can be ordered from the Lloyd's Register webstore: http://www.webstore.lr.org.