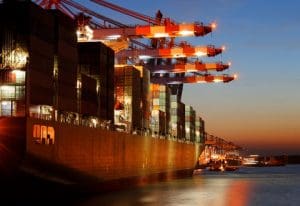 CARGOTEC Corporation, 26 June 2012
 Cargotec appointed Buffers USA Inc as distributor for its MacGregor and Allset brands of lashing equipment for US East, and Gulf coasts, Canada and Mexico from 1 April 2012 and is now expanding the territory to also include the US West coast.
Established in 1989 to develop Intermodal hardware for the North American market, Buffers USA teamed upwith Allset Marine in 1991 and successfully changed the US marine twistlock market from the manual type to the semi- automatic.  Today BuffersUSA handles over 6, 300 part numbers and carries over 6.5 million partsat any given time in their four warehouses on the West, Gulf and East coasts of USA.
"We are proud to expand the business relationship with Buffers USA that we already have enjoyed for 21 years with the Allset line of products. With Buffers profound product knowledge and geographical foot print we will additionally increase the service levelto our customers in the territory" said Marcus Näslund, Cargotec's Business Development Manager, Lashings.
"We are delighted to expand our territory for the MacGregor  and Allset brands since they are well-known and respected names in the industry and the MacGregor brand with Cargotec behindit, continues to have the largest market share of lashing for new ships that will require top level after market service from well stocked warehouses" said John Hove, President of Buffers USA from their Jacksonville, FL headquarters.
The expanded territory starts on 1 July, so customers should direct all enquiries to Buffers from that date onwards."
Cargotec improves the efficiency of cargo flows on land and at sea – wherever cargo is on the move. Cargotec's daughter brands, Hiab, Kalmar and MacGregor are recognised leaders in cargoand load handling solutions around the world. Cargotec's global networkis positioned close to customers and offers extensive services that ensure the continuous, reliable and sustainable performance of equipment. Cargotec's sales totalled EUR 3.1 billion in 2011 and it employs approximately 10, 500people. Cargotec's class B shares are quoted on NASDAQ OMX Helsinki under symbol CGCBV. www.cargotec.com
MacGregor is the global market-leading brand in marine cargo handling and offshore load-handling solutions. Customer-driven MacGregor engineering and service solutions for the maritime transportation industry and the offshore load-handling and naval logistics markets are used on board merchant ships, offshore support vessels, and in portsand terminals.
About Buffers USA:
Buffers USA designs, manufactures and distributes products for the intermodal transportation industry including ship's lashing , container, van trailer and chassis parts, chassis twistlocks and pinlocks, cargo control for trucks and flatbeds, moisture control technology, thermal bulkheads, anti-theft products for containers and packaging and cargo handling products for warehouse operations as well as cargo protection inside shipping containers.  It operates through a dealer and distribution network in the U.S., Canada, Mexico, Central and South America. It has warehouses in Florida, Michigan, Texas and California. Headquarters are located in Jacksonville, Florida. www.buffersusa.com