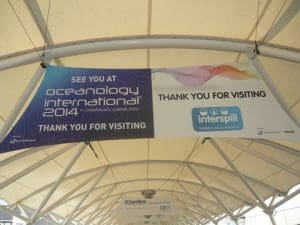 Oceanology International 2012 was a true record breaker with 7, 669 attendees (ABC audited) from more than 70 countries (a 10.9% increase on 2010) and over 525 exhibitors from 33 countries – now the 2014 edition of the biennial show, being held at ExCeL, London from Tuesday 11 until Thursday 13 March 2014, is already breaking records 20 months before it opens. Not only will it be larger at 16, 000m2 of gross space, but 73.6% of all the available space has already been firmly booked.
"We have secured additional space at ExCeL to accommodate the high demand, as we are currently expecting an extra 11% of exhibition space sold compared to the 2012 show based on requests, but booking has broken all previous records, with the current sales figure standing at 6, 064 m2 – and climbing, a 24.9% increase over the 4, 852 m2 that had been sold by this time two years ago, " explains Exhibition Director, James Coleman of Reed Exhibitions. "Companies such as Veripos, Kongsberg, Gardline, and Fugro have all confirmed their space for 2014, with others getting ready to return their contracts."
Oceanology International, part of the Energy & Marine events portfolio of Reed Exhibitions, is the global forum where industry, academia and government share knowledge and connect with the marine technology and ocean science community, improving their strategies for measuring, exploiting, protecting and operating in the world's oceans. First held in 1969, Oceanology International features the world's largest exhibition for marine science and technology, agenda setting conferences, visiting vessels, waterside demonstrations, careers day for graduates/undergraduates and networking events – all free to attend, and all to be repeated in 2014.
James Coleman adds: "What I find particularly rewarding is the fact that a dozen of our 'first time' exhibitors at Oceanology International 2012 have already booked a stand for 2014, which speaks volumes for how they fared this March. Those who have taken this 'giant leap' include: dotOcean (who have increased their stand space by 375% from 8m2 to 30m2), WASSP Ltd, Bourbon Offshore DNT SRL, Calecore (who have doubled their space from 24m2 to 48m2), Mariscope Meerestechnik, Tecnikabel, Norcom Technology Limited, Novacavi Srl, RIEGL Laser Measurement Systems GmbH, Rowe Technologies, Septentrio Satellite Navigation, and Harmonic Drive AG.
"These 'first timers' are not the only exhibitors to have increased their stand space. So far 46 companies have between them increased their participation by 57%, " he says. "Then too there are companies who were 'stand sharers' in 2012 who have opted to take their own stand for 2014.
"We really should not be surprised by these dramatic figures, for research undertaken immediately after this year's event revealed that the 2012 show delivered great and commercially-measurable results: 89% of the 2012 exhibitors received or are expecting to receive an order in the next 6 to 12 months as a direct result of exhibiting at Oceanology International 2012; 83% of visitors from a wide range of end user industries specifically came to the show to discover new products and services whilst meeting technical experts face-to-face; and 98% of exhibitors from 2012 said they were satisfied with the event, and 94% said they were likely to exhibit again at Oceanology International 2014 – and they are certainly proving that point!"
The Call for Papers for the Oceanology International conferences will be published in summer 2013 ensuring that all programmes are as topical as possible.
Oceanology International now has a more interactive website designed to deliver far more exposure for exhibitors throughout the entire pre-show period; an online lead feature enabling exhibitors to email visitors who express an interest in them, and other specific exhibitors; and a free-of-charge lead management system.
"The Oceanology International team would like to thank the Society for Underwater Technology (SUT), as well as the other supporting associations that have helped the show grow to such great extent, " adds James Coleman.
Further information on all aspects of Oceanology International 2014 is available from www.oceanologyinternational.com and from the event team at www.oceanologyinternational.com/en/contact-us/.
The 2012 conference presentations, photographs taken during Oceanology International; a video featuring event highlights and opinions; and the show dailies are available on the website
DIARY DATE Event: Oceanology International 2014 Dates: Tuesday 11 – Thursday 13 March 2014 Venue: ExCeL London Organised by: Reed Exhibitions Limited Further information from: www.oceanologyinternational.com