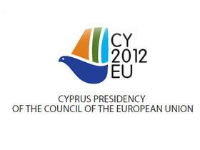 On 1 July, Cyprus succeeded Denmark as President of the Council of the European Union for a six-month period. During the presentation of its work programme at the Transport Council meeting of 7 June, the Cyprus Presidency pledged to continue efforts to achieve sustainable growth and resource efficiency. Cyprus will also highlight the importance of a more competitive European Union, based on a low carbon and green economy and enhancing the ambitious efforts of the European institutions for more concrete results.  
As 2012 has been declared the 'Year of Water', the Presidency will carry out work on the sustainable use of water resources, on the basis of a Commission blueprint on the issue. The re-launching of the Integrated Maritime Policy will be another priority of the Cyprus Presidency. Cyprus will also continue discussions on the revised guidelines on the Trans-European Transport Networks (TEN-T), which will contribute both in meeting effectively the new challenges in the transport sector and in achieving the objectives of the Europe 2020 Strategy. Cyprus will furthermore focus on the negotiations for the Connecting Europe Facility, which outlines the financial framework for the TEN-T. Furthermore, the role of telecommunications and information society will be highlighted in the context of transport policy development, and, more specifically, in fostering innovation in transport and promoting co-modality with multimodal journey planners.
The Cyprus Presidency further intends to make progress with the legislative proposal on governance and financing of the Global Navigation Satellite System (GNSS – the Galileo Project). Cyprus will also attach importance on the working and living conditions of seafarers and on a socially responsible shipping industry. In this respect, the Presidency will strive to transpose the relevant provisions of the International Labour Organisation's (ILO) Maritime Labour Convention (MLC) in EU law. This particularly concerns Port State and Flag State obligations of EU Member States.
On 19 June, the outgoing Danish Presidency had an exchange of views with members of the Transport Committee of the European Parliament. Danish Transport Minister Dam Kristensen highlighted the successful agreements on the recast of the Single European Railway Area and on the working conditions of seafarers. He also underlined the progress made on the Trans-European Transport Networks and the Connecting Europe Facility. MEPs praised the Danish way of working, but mentioned their concern about the heavy budget cuts for the next Multiannual Financial Framework.