Wärtsilä Corporation, 25 July 2012, at 11:00 am (EET)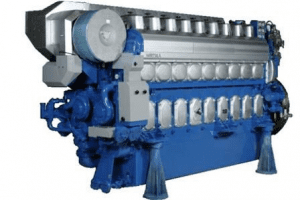 Wärtsilä, the marine industry's leading solutions and services provider, has been contracted to supply the ship designs for three new platform supply vessels (PSVs). The contracts have been signed with Kleven Maritime AS, the Norwegian shipyard that will build the vessels, two of which will be owned by Atlantic Offshore and the other by Remøy Shipping. Both are Norway based companies. All three ships will be operated by Statoil, the partly state-owned Norwegian oil and gas company.
The two PSVs for Atlantic Offshore will also feature Wärtsilä power and propulsion, electrical and automation systems, including the patented Wärtsilä Low Loss Concept (LLC). The highly redundant diesel-electric system provides additional reliability for continuous operation in various failure modes. The vessels will attain the highest possible Environmental Rating Number (ERN) of 99.99.99.99, representing their capacity to maintain position and normal operations in certain weather conditions. The Integrated Automation System (IAS) to be delivered will also include the advanced Wärtsilä ECOmeter. This feature allows the operator to be able to optimize the vessel's fuel consumption, and is an efficient tool for track planning, as well as ensuring the most efficient running of the generators. The vessels are also required to meet the IMO's most stringent requirements regarding emissions of NOx.
Wärtsilä's equipment deliveries will begin in autumn 2013, and all three vessels are scheduled to be operational by the end of 2014.
Statoil will utilise the PSVs to support its operations on the Norwegian continental shelf, and the Wärtsilä designs have been tailored to meet the challenging conditions presented by the North Sea environment. The designs also accommodate the specific fuel economy and cargo capacity requirements of the owners and operator.
The Remøy Shipping owned PSV will operate on liquefied natural gas (LNG), and is the eighth LNG PSV to be built based on Wärtsilä designs. This order, therefore, strengthens Wärtsilä's leading position in the LNG PSV design market.
"This significant order speaks highly of Wärtsilä's design capabilities, which are based on the company's deep experience and broad know-how. The original tender was for seven vessels, and of those, only one was for an LNG fuelled PSV, which Wärtsilä Ship Design was selected for. All in all, Wärtsilä Ship Design won orders for three vessels, which represent a large part of the total order. We are delighted that our proposals were judged to be appropriate and competitive, and that our tenders have been successful, " says Riku-Pekka Hägg, Vice President Wärtsilä Ship Design.
The Atlantic Offshore vessels are based on the well proven Wärtsilä Ship Design VS485 format, and are 90.4 metres in length. The LNG PSV for Remøy Shipping is a Wärtsilä Ship Design VS4412 DF PSV design, and is 92.5 metres long.
Fact box
Atlantic Offshore – 2 x VS 485 PSV MKIII L
Length over all ……………………… 90.40 m
Breadth moulded ……………………20.00 m
Depth to 1st Deck …………………….8.60 m
Maximum speed ………………..15.3 knots
Accommodation: 25
Equipment: 4 x Wärtsilä 9L20 engines with generators Low Loss Concept LLC system electric and automation system
Remøy Shipping – VS 4412 DF PSV
Length over all………………………..92.50 m
Breadth moulded ………………….  20.00 m
Depth to 1st Deck……………………. 9.00 m
Speed……………………………….. 15.2 knots
Accommodation: 26
Wärtsilä in brief
Wärtsilä is a global leader in complete lifecycle power solutions for the marine and energy markets. By emphasising technological innovation and total efficiency, Wärtsilä maximises the environmental and economic performance of the vessels and power plants of its customers. In 2011, Wärtsilä's net sales totalled EUR 4.2 billion with approximately 18, 000 employees. The company has operations in nearly 170 locations in 70 countries around the world. Wärtsilä is listed on the NASDAQ OMX Helsinki, Finland. www.wartsila.com