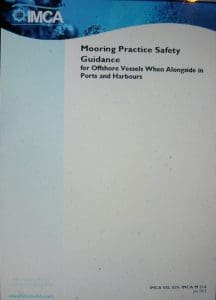 Ships enter and leave ports regularly. Tying up a ship when alongside a berth or another vessel is potentially a very hazardous operation, unless simple and effective safety procedures are followed. 'Mooring Practice Safety Guidance for Offshore Vessels when Alongside in Ports and Harbours' (IMCA SEL 029/M 214), the latest publication from the International Marine Contractors Association (IMCA) is designed to ensure safe mooring with zero incidents.
"Mooring accidents are always on the list of personal injury accidents, often resulting in severe injuries or even fatalities, " explains Jane Bugler, IMCA's Technical Director. "Indeed, many people who read this guidance will remember some form of mooring incident. Whether it be a near miss or an accident, it should serve as a reminder that mooring and casting off a vessel is a potentially hazardous operation that should always be well planned by way of risk assessments and comprehensive procedures. The maintenance of all ship's equipment is important, but it appears that mooring equipment can sometimes be forgotten about. Ours is a very simple message: 'Look after all your mooring equipment and it should contribute to a safer operation'."
The new guidance has easy-to-follow sections on planning the operation; who is in charge?; communication; personal protective equipment; danger zones; condition of mooring lines; hazards; environmental conditions; vessels assisting; quay access; and mooring equipment. Like all IMCA guidance it is available for free-downloading from the IMCA website for members and non-members alike.
Viewers can obtain printed copies, as follows: For members same are available to at £2.50 and non-members £5.00 (plus delivery charge where applicable) from www.imca-int.com/publications, from publications@imca-int.com or from IMCA at 52 Grosvenor Gardens, London SW1W 0AU, UK. Tel: +44 (0)20 7824 5520; Fax: +44 (0)20 7824 5521.
About IMCA
• IMCA is an international association with over 850 members in more than 60 countries representing offshore, marine and underwater engineering companies. IMCA has four technical divisions, covering marine/specialist vessel operations, offshore diving, hydrographic survey and remote systems and ROVs, plus geographic sections for the Asia-Pacific, Central & North America, Europe & Africa, Middle East & India and South America regions. As well as a core focus on safety, the environment, competence and training. IMCA seeks to promote its members' common interests, to resolve industry-wide issues and to provide an authoritative voice for its members.
• IMCA publishes some 200 guidance notes and technical reports – many are available for free downloading by members and non-members alike. These have been developed over the years and are extensively distributed. They are a definition of what IMCA stands for, including widely recognised diving and ROV codes of practice, DP documentation, marine good practice guidance, the Common Marine Inspection Document (CMID) – now available electronically as e-CMID, safety recommendation, outline training syllabi and the IMCA competence scheme guidance. In addition to the range of printed guidance documents, IMCA also produces safety promotional materials, circulates information notes and distributes safety flashes.