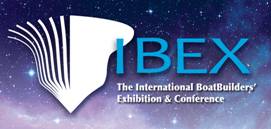 Full-Day Sessions Provide In-Depth Hands-On Training from Industry Experts
LOUISVILLE, KY – Aug. 22, 2012 – (Marine NewsWire) Marine professionals attending the 2012 International BoatBuilders' Exhibition and Conference (IBEX) who are interested in more intensive education can come one day early to take advantage of the pre-conference all-day training sessions offered by four leading marine manufacturers and their expert educators on Monday, Oct. 1.  
The pre-conference training sessions for 2012 are:
Composite Infusion Technology Workshop, conducted by Composites Consulting Group, covering all aspects of the composite infusion process, including infusion concepts, manifold strategies, materials and equipment for infusion, virtual infusion and computerized flow simulation
Fiberglass Boat Repair, conducted by West System Epoxy, covering basic repair techniques with epoxy, fastener bonding, composite technology, composite repair, fairing, gelcoat blisters and advanced composites
ShrinkWrap University, conducted by Dr. Shrink, including complete product overview, safety practices, industry applications, marketing and advertising shrinkwrap services, how to handle insurance and hands-on training
Problem Solving Skills for the Marine Industry, conducted by Marine Industry Training & Educational Council (MITEC), an interactive workshop on learning and applying problem-solving skills
"The technical workshops provide intense hands-on training that would normally be taught at the factory, and the MITEC problem-solving sessions will teach valuable skills for success in business, " said Carl Cramer, IBEX co-director and publisher of Professional BoatBuilder magazine. "We're offering them the day before the show opens, so IBEX attendees can take advantage of these unique learning opportunities." 
The price for the composite infusion, fiberglass boat repair and shrinkwrap workshops is $85 per person and includes lunch. The problem-solving workshop is free to MITEC members and $75 for non-members. Seating is limited, and advance registration is required. For complete information on the Pre-Conference Workshops, or to register visit the show web site at:  www.ibexshow.com.
IBEX, the premier trade show and networking event for marine professionals, will take place Oct. 2-4, at the Kentucky Exposition Center in Louisville.
About IBEX
Owned and produced by Professional BoatBuilder magazine and the National Marine Manufacturers Association (NMMA), IBEX is the marine industry's largest technical trade event. For boatbuilders, marine industry dealers, aftermarket suppliers and buyers, designers, repairers, surveyors, and boatyard/marine operators, IBEX is where the business of boating gets done. For the latest information, visit www.ibexshow.com.
About Professional BoatBuilder magazine
Professional BoatBuilder, a boatbuilding-industry trade magazine, was first published in 1989 in response to a growing need for a dedicated forum for boatbuilding-related professionals. The magazine's worldwide readership exceeds 24, 000 (subject to BPA international audit). Professional BoatBuilder is online at www.proboat.com.
About NMMA
The NMMA is the leading association representing the recreational boating industry. NMMA member companies produce more than 80 percent of the boats, engines, trailers, accessories and gear used by boaters in North America. The association is dedicated to industry growth through programs in public policy advocacy, market statistics and research, product quality assurance and promotion of the boating lifestyle. Learn more at www.nmma.org.