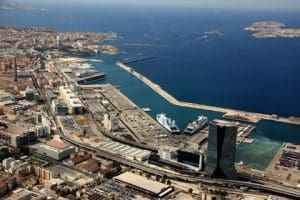 24 August 2012 – Marseilles welcomes Messina ro-con relaunch       
Italy's Messina Line is relaunching its unique ro-con operation from Marseilles to east and southern Africa after suspending sailings since April last year. 
The service resumes from Monday (August 27) with two newbuilds delivered this year, Jolly Perla and Jolly Diamante, and is due to be augmented by two further ships currently under construction.  The ships are among the world's largest of their kind and the biggest that Messina has ever run out of the leading French cargo port.
At 249 metres long, they have container capacity of 3, 000 teu and 6, 350 lane metres for ro-ro cargo including cars, trucks and outsize loads.  The vessels feature an unusually high six-metre tall stern door and a loading ramp capable of supporting 350 tonnes – accommodating loads such as cranes, rail carriages and aircraft fuselages.
The service will be handled at the Med Europe (formerly Mourepiane) terminal operated by Intramar STS in the Marseilles eastern harbour area.  The rotation is Barcelona, Marseilles, Genoa, Naples, Jeddah (12 days), Mombasa (22 days), Dar Es Salam (23 days), Durban (28 Days) and Maputo (35 days).
Messina is the only line to offer a direct service between Marseilles and the east and southern regions of Africa.  The Marseilles Fos port authority welcomed the decision to relaunch with extra capacity and said the service would notably enhance the port's maritime transport network.