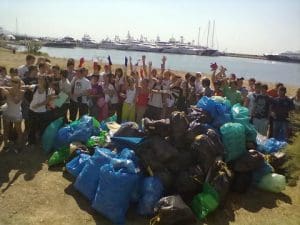 Athens, Greece – On Saturday 15 September, International Coastal Cleanup Day 2012, hundreds of thousands of volunteers in 90 countries will symbolically clean beaches, demonstrating in practice their sensitivity towards the marine environment.  
This global initiative is being coordinated in Greece, for the 21st consecutive year, by the Hellenic Marine Environment Protection Αssociation – HELMEPA. The Association once again invites its members, cooperating entities and environmentally conscious members of the public throughout the country to take part in the Month of Voluntary Action for the Marine Environment (15 September – 15 October 2012), dedicating some of their spare time to cleanup  a nearby beach, lake/river bank shore or segment of the seabed.
The volunteers, children and adults, equipped with gloves and bags, will record the litter they collect, thus providing valuable information on the amounts, types and sources of marine litter that will contribute to the better understanding of and help in dealing with the problem.
This year, in cooperation with the Hellenic Recovery-Recycling Corporation (HE.R.R.Co.), the campaign focuses on the issue of recycling. The coordinators of activities inGreece, having received the relevant supporting material from HELMEPA, will organize the separation of the collected recyclable items, which will then be forwarded to the recycling facilities of HE.R.R.Co.
Moreover, the data submitted by volunteers from across the country will be used for the monitoring of the problem at the national level within the framework of the implementation of the European Commission's Marine Strategy inGreece.
We invite all environmentally aware members of the public to take part in the International Coastal Cleanup Campaign 2012, with the support of communications sponsor, Kiss FM 92.9.
Register your participation today by returning the completed Form either to email environment@helmepa.gr or to fax +44 210-9407327. For further information, contact HELMEPA's Environmental Awareness Sector on +44 210-9343088.