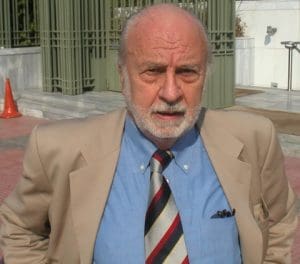 The Federation of European  Maritime Associations of Surveyors and Consultants (FEMAS) had their Board Meeting on Friday 7 September 2012 at the K.C. Lyrintzis Group. 26 Akti Posidonos, Piraeus. This was followed by presentatιons: LYRINTZIS (Kechris, Frydas):  Risk Management / Piracy PIRAEUS ARBITRATION (Pournara):  Arbitration / Mediation TSAVLIRIS (Tsavliris, Adamopoulou):  Towage / Salvage. A buffet lunch followed, attended by FEMAS and HMTCA delegates, Members of HMTCA and other guests.
FEMAS  was founded in 1993 as a federation of maritime associations of ship surveyors and marine consultants.  Current members are UPEM (France), BAMTES ((Belgium), NIVRE (Netherlands) SCMS (United Kingdom), HMTCA (Greece), VDSS (Germany), ΑΙΡΑΜ (Italy) with an overall total of about 350 members. FEMAS through EFTA plans to extend membership to Austria, Finland, Iceland, Norway, Sweden and Switzerland.
FEMAS membership is considered a quality label of technical competence, professionalism and trustworthiness in the area of maritime surveying and consultancy.
FEMAS is available to European Union (EU) Commissioners, Government Departments, International bodies and other organisations for consultations on maritime safety, legislation and operations.  It participates in the annual conferences of the International Union of Maritime Insurers (IUMI), meetings of Maritime  Industries Forum (IMF) and is in touch with FFSA, CESAM, AMSO, HMS, IMCC, Cluster Maritime Français and others in the same field and speciality. Member Associations have recently been working on the Engine Registration System, Valuation of Merchant Ships, Newbuilding Contracts, Maritime Arbitration etc.
FEMAS Annual General Meetings were hosted by HMTCA in Syros 2001 and Athens 2011. HMTCA was founded in 1984 for independent, highly qualified and experienced Greek Consultant, Naval Architects and Engineers. HMTCA has the following Affiliations:
FEMAS – Federation of European Maritime Associations of Surveyors and Consultants
PAMA  – Piraeus Association of Maritime Arbitration
HUML – Hellenic Union of Maritime Lawyers
HSA –  Hellenic Shipbrokers Association
In 1997 HMTCA organized with great success a FEMAS three day International Conference with subject "The Marine Consultant: Role in Shipping". About 150 participants attended and topics pertaining to the shipping industry were presented and discussed in open forum.
In the following years HMTCA and the Hellenic Union of Maritime Lawyers (HUML) organized various Conferences in Piraeus:  "The Maritime Expertise.  Theory and Practice", "The Contribution of the Legal and Technical Expert in Newbuildings", "Legal Procedures and Safer Shipping, "Views, Problems and Prospects of Maritime Arbitration in Greece", "Salvage and Towage".
In April 2009 the Hellenic Shipbrokers Association (HSA) joined HUML and HMTCA for the Conference:  "Crisis:  "Present and future in Shipping".
In 2010 HMTCA published and circulated an Expert Witness Register with CVs of Members who are prepared to accept appointments as Experts in Maritime Court, Arbitration or Mediation cases worldwide.
From Sep 2011 the President of FEMAS is Dimitri G. Capaitzis (pictured), who is the current President of HMTCA.