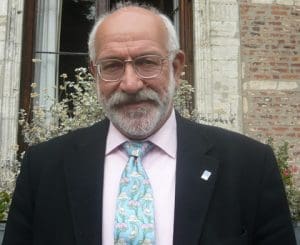 John Faraclas' latest interview to Panos Thomakos on SBC TV last Friday the 5th of October tackled the following issues:
1)The tax issue saga and its real contribution by Greece's Masters of the Seven Seas not only towards Greece, but to all nations and in particular in employing foreign seafarers from all over the world, building ships in China, Korea, Japan and elsewhere – instead of using Greece's shipyards for many reasons… Financing maritime academies, building hospitals, offerng scholaships, to mention but a few…
Greece never introduced/created any tax havens alike other European nations (particularly colonial ones) did – needless to say that the entire world lives under the Tax Havens umbrella… Those who condemn the Greek Shipping companies and individuals as tax dodgers, better see their own courtyard, as there are skeletons in their cupboards… (yes with an "s" at the end of the word cupboard). The EU and its "maestros" should be very careful when opeing a subject like this!
2) The Shipyards issue and the scandals which will erupt all over the world, if the Greek Shipyards problems are not properly solved; penalising the Hellenic Shipyards is a political issue and a cover up of known scandals… bothering all for over 30 years…
3) The building of coastal ferries in Greece's shipyards; a must here and now!
4) The fact that the dockers are right vis-a-vis the state of their earnings, but wrong in choosing the moment to strike and trespass the Greek Ministry's of Defence main gate in an attitude good only for the jungle; questioned the real thing behind this movement, when Greece's Minister for Defence was participating in the Centenary Anniversary of the Greek Fleet's successful campaign to liberate the Aegean Islands in 1912. It's the Unions who embezzled the dockers, their "own comrades" as a result of which these people and their families suffer today. Let them bear the stigma! They opted for a "solution"; let them "enjoy" their solution as Greece's shipyards suffer…. Good Unionism would have firstly protected by a proper protectionism the shipyards and within the rules of competition, even within the rules of the anathema, …err the 7th European Directive….. remember???
5)The Greek Prime Minister  is right in trying to hold the country together, he is right to make sure the country is not being "intruded" and sold at a piecemill,  but wrong in his planning time wise as he should had everything in order, in place,  in all respects when he took the oath to serve as Prime Minister under these circumstances and lead a coalition on which he heavily depends on! Greeks of all parties should unite, otherwise chaos will be the name of the game worldwide with incalculable repercussions! The Greek opposition should work towards development and not towards dirty party politics. Katharses should come forthwith!
A translation of the video tape will appear soon.
The saga goes on; watch this space!
Log on and listen: