At the latest Cadwallader's symposium and dinner I was tempted from the available publications on …show; all for November 2012 – except for the Lloyds Maritime and Commercil Law quartely and LLOYD'S MARITIME LAW, which is for August and October 2012 respectively- here we go:
The Lloyd's Law Reports, part 9 (2012) Vol includes:  
The Crudesky case,
Charterparty (Voyage/Delay/Vessel delayed at Port Harcourt by Nigerian authorities after loading cargo of crude oil/Whether charterers liable to pay demurrage/Whether payable at full or half rate/Whether owners entitled to recover additional war risk premium/Whether owners entitled to cost of producing fresh water and consumption of bunkers during period of delay.
Sale of goods (fob)/Whether buyers entitled to pass on demurrage and additional war risk insurance liabilities to sellers/Whether sellers in breach of express or implied terms of contract/Whether sellers entitled to rely on force majeure exception/Sale of Goods Act 1979, sections 12 (1) and 12(2)(b).
the F G Wilson (Engineering) Ltd v John Holt & Co (Liverpool) Ltd;
Sale of goods/Action for the price/Passing of property/Retention of title clause/No set-off clause/Whether clause incorporated, applicable and valid/Sale of Goods Act 1979, section 49/Unfair Contract Terms Act 1977, sections 3(2) and 11.
the VTc v PVS  
Charterparty (Time)/Warranty by owners that vessel would arrive at load port with "all cargo tanks… suitable to load the intended cargo"/Vessel found to have crack in slop ank/Whether owners in breach of charter.-
Viewers should note that Lloyd's Law reports Plus cases are available on www.i-law.com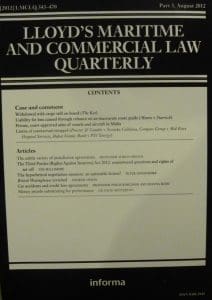 LLOYD'S MARITIME AND COMMERCIAL LAW QUARTERLY
In this issue:
Case and comment
Withdrawal with cargo still on board (The Kos)
Liability for loss caused through reliance on an inaccurate route guide (Munro v Sturrock)
Private, court-approved sales of vessels and aircraft in Malta
Limits of contractual estoppel (Procter & Gamble v Svenska Cellulosa, Compass Group v Mid Essex Hospital Services, Dubai Islamic Bank v PSI Energy
Articles
The subtle variety of jurisdiction agreements PROFESSOR ANDRIAN BRIGGS
The Third partes (Rights Against Insurers) Act 2012: unanswered questions and rights of set-off TIM BULLYMORE
The hypothetical negotiation measure: an untenable fiction? PETER DEVONSHIRE
British Westinghouse revisited  ANDREW DYSON
Car accidents and credit hire agreements  PROFESSOR PHILIP RAWLINGS AND IOANNA RUDD
Money awards substituting for performance DR DAVID WINTERTON
LLOYD'S MARITIME LAW – Newsletter
This newsletter includes cases from Australia
1.the (2012) 858 LMLN 1 – Admiralty jurisdiction – Forward Freight agreement – Whether agreement relating to the carriage of goods by ship – the Transfield ER Futures Ltd v The ship "Giovanna Iuliano" – Federal CT of Australia (Gordon J) 28 May 2012
2.the (2012) 858 LMLN 2 – Tort- Damages-Fraudulent misrepresentation – Agent misrepresenting charterers' ability to perform charterers – Measure of damages – Owners failing to adduce evidence of loss – whether matter should be remitted to allow owners to prove loss – Thompson v STX Pan Ocean Co Ltd – Federal Ct of Australia (Greenwood, McKerracher and Reeves JJ) – 29 February 2012
Cases – New Zealand
1.The (2012) 858 LMLN 3 – Admiralty  jurisdiction – Caveat against release of vessel from arrest – Caveat lodged by unpaid supplier of fittings to boatbuilder – High Court setting cveat aside and awarding indemnity costs – whether judge entitled to make indemnity costs order – Quantification of costs – the General Marine Services Ltd v The ship "Luana" – Court of appeal of New Zealand (Arnold, Randerson and White JJ – 2 August 2012
LONDON  ARBITRATION
(2012) 858 LMLN 4 – Charterparty – Vessel chartered for voyage from Houston to Poti –  additional clause giving charterers option to discharge at second port in which event time to count from arrival at pilot station to dropping outward pilot – Whether additional clause operated independently of charterparty laytime code.-
This includes:
a) Compulsory insuranace of shipowers for maritime claims
b) P & I Clubds nd competition law, and
c) A cse update: foreign arbitration clause n a voyage charter held to be ineffective by Aaustralian court, and
d) Incorportaion by notice of terms in saale contract.-
Finally, the Maritime Risk International  which covers the important issue of Criminalisation and the growing concerns for the industry. Other matters are a report of a collision in Hong Kong; The Human cost of Piracy; and finally the strikes that loom in Americas.  Enjoy the read!