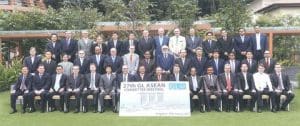 Singapore, 30 January 2013 – Classification society Germanischer Lloyd's ASEAN Committee meeting took place in Singapore, with more than thirty participants from all of the ASEAN member countries. Over the quarter that has passed since the first meeting a revolution has taken place in the way that communication takes place, yet the Committee remains as ever a forum where strong and lasting bonds can be formed between business partners. The shipping industry finds itself also in a period of revolution, with existing practices facing the stresses of an
increasing competitive market environment, regulatory pressure and rising costs.
The committee was chaired for the first time by Cedric Foo, Group Deputy President & Chief Officer of Neptune Orient Lines (NOL). In his welcome speech, the new chairman pointed out that innovations and technological
progress are the most important drivers to overcome the current difficulties in the maritime markets.
Change was a theme not only in the industry but at the GL Group, with Group CEO Erik van der Noordaa speaking of the planned merger with Norwegian classification society Det Norske Veritas (DNV). The merger would benefit customers by providing them with an even more extensive network of offices, strengthening the Group's ability to provide expert services to new and existing customers around the world, and a broader scope of services, backed by leading technological expertise and enhanced innovation capabilities, he said.
LNG looks to be a key fuel for the next quarter century and Mr. Naveen Kumar, Vice President Norgas Carriers presented LM Skaugen's Small Scale LNG concept. The concept is an effective solution for making natural gas
available to energy users not currently connected to pipeline networks, he explained and could increase the market for natural gas. LNG would be distributed from either a LNG plant, LNG import terminal or directly from a LNG carrier using a combination of both sea and land based transport directly to the end-user on islands both in the Mediterranean, the Caribbean and South East Asia. With a viable gas supply available through Small Scale LNG, power plants on these islands could switch from generators burning diesel or fuel oil to more cost effective and
environmental friendly combined cycle gas turbines firing on gas.
Jan-Olaf Probst, GL's Global Ship Type Director, set out how, in response to client queries GL has been able to develop a new class notation for route dependent container stowage, based on long-term statistical data on wave conditions. The notation allows for route dependent container stowage schemes that take into account the variance
in sea conditions on particular sea lanes. It is built around the realistic determination of route specific loads on the deck containers and their lashing systems and will enable container lines to carry more cargo while accelerating cargo operations in ports and maintain a higher degree of loading flexibility. The new class notation for route
dependent container stowage will be available for all GL classed container vessels in 2013.
Steen Lund, GL's Managing Director Asia/Pacific, gave an outlook for the shipbuilding sector in Asia. His prophecy was clear, some Asian shipyards would be facing difficult times in the future and many companies would find their existences under threat from increased competition for reduced orders.
Achim Drescher, former Chairman of Columbus Line Australia, gave a comprehensive analysis of the dynamics of the bulk markets. He pointed out that mining companies were today behaving in the same manner as oil majors, in many ways, when the majors had controlled a large proportion of the world tanker fleet. In addition, GL's Chief Commerical Officer Christian von Oldershausen highlighted GL's expertise in bulk carriers and explained the commercial advantages of various services.
Albrecht Grell, Head of GL's Maritime Solutions, looked at how energy efficiency was set to drive opportunities in the shipping market. Fuel efficiency was now the biggest lever to increase cost competitiveness, he said, with bunkers costs rising to more than one third of a vessel's total operating costs. The best operators were already taking note of this trend, he said, with top players in the market today designing and building vessels 30% more efficient than the average. With the entry of such optimised vessels into the market cost pressures on existing
vessels would continue to mount, he noted, making the importance of making efficiency gains, especially in operational strategies, increasingly important.
GL has built a strong hub in Singapore, with training and an emphasis on providing customers access to energy optimising products, such as the GL ECO Assistant. GL's dedicated FutureShip Singapore team has grown to
four, since its inception in January 2012, with plans to double the number of staff again in 2013. Dr Alam Khorshed, VP of FutureShip showed what can be done on the operational side to optimize existing ships, including: slow steaming, hull cleaning, crew training and trim optimization.
The Maritime Singapore Green Pledge initiative is an important step forward in making the industry more environmentally friendly and GL sees Singapore as an important focus for "green" technologies. The GL Group
recently consolidated its offices in Singapore and now has over 150 staff working under one roof – allowing for increased access to experts from multiple service areas and more room for experts to gain valuable insights from each other, especially in the area of energy efficiency and environmental protection. To wrap up the event, GL Maritime Software Director Dominic Ng, looked at the benefits of the new GL Emission, a novel performance monitoring and emission tracking software tool.
About Germanischer Lloyd
Germanischer Lloyd (GL) offers classification services, plan approval, inspection and certification of materials and components as well as technical assessments for newbuildings and ships in service. GL is dedicated to providing high quality services, which ensure the safety of life and property at sea, and minimize impacts on the marine
environment.
As a classification society GL is particularly strong in the classification of container ships, multi-purpose vessels, tankers, bulk carriers, high-speed ferries, cruise ships, mega yachts and sports boats. GL currently surveys almost 8000 vessels on a regular basis, and GL's fleet in service now surpasses 110 million GT.
GL's experts serve as advisors to governments, the IMO, flag and port states. The group is committed to a smarter, safer and greener future of shipping. www.gl-group.com