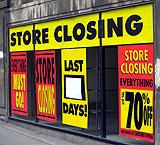 Mon 04 Feb 2013 – As familiar high street chains go insolvent more businesses are turning to Lloyd's for trade credit insurance.
The recent string of insolvencies on the UK's high streets is the latest sign that economic recovery faces strong headwinds. However businesses across the leading economies face an uncertain future.  
Five years on from the outbreak of the financial crisis, the global economy is still struggling to recover. According to the International Labour Organisation, despite a moderate pick-up in output growth predicted for 2013–14, the number of unemployed worldwide is projected to rise by 5.1 million in 2013 to more than 202 million in 2013 – and by another 3 million in 2014.  
Continuing weak growth in developed economies has been blamed by some economists on incoherent monetary and fiscal policies adopted in different countries, in particular in the Euro area, creating uncertainty that weighs on the global outlook.
In January the OECD stated that European banks remain at the heart of the Euro area crisis and are likely to remain so until underlying concerns over low capitalisation at some banks are addressed.   Mike Holley, CEO of the Lloyd's trade credit insurance specialist Equinox Global, agrees: "The main cause of the problems we've seen across Europe and the US is the deleveraging of the banks – banks are simply less able to lend money than they were in the boom years, " he told lloyds.com.
Problems across Europe  
"It is a different story country by country, but right across Europe the fundamental problems with the banks are still not resolved and they [the banks] are still deleveraging. As long as that situation continues there will be a drag effect on the different economies."   Mr Holley is pessimistic about the outlook for insolvency levels among businesses and believes that 2013 could be worse than in 2012 – even if growth picks up a little and banks begin to put their house in order.
"Once economies start picking up again there can be an increase in insolvencies. Companies that have battened down the hatches for many years overstretch themselves as they strive for growth, " he explains. "Also, as soon as the banks start feeling more confident about their own balance sheets they might be more willing to drop zombie companies from their books."   So called zombie companies are big businesses that have been kept alive by banks unwilling to call in their debts and realise their losses.
Continuing uncertainty  
The continuing uncertain trading conditions have heightened interest in the protection afforded to businesses by trade credit insurance. Trade credit insurance covers manufacturers, traders and service providers against the risk that their buyer does not pay (after bankruptcy or insolvency) or pays very late.   "Demand for the product is quite good at the moment because businesses are very aware of the ability of the current economic environment to produce unpleasant surprises, " Mr Holley says.
Equinox Global is a Lloyd's Managing General Agent dedicated to underwriting and managing trade credit insurance. Launched in 2010, its carrier platform includes Beazley Syndicate AFB 2623/623, Aspen Syndicate 4711, Pembroke Syndicate 4000 and Jubilee Syndicate 5820. With the addition of Jubilee in December 2012, Equinox Global's automatic capacity increased from $30m to $35m.
Lloyd's alternative  
A growing number of Lloyd's underwriters are offering forms of specialised trade credit insurance. These include Novae, which offers it on a reinsurance basis and Catlin which writes it across their platform. Hiscox writes the business with an emphasis on political risk and contract frustration. Kiln likewise has trade disruption type products.
"Lloyd's is a market place that focuses on specialist lines, " says Mike Holley. "The traditional credit insurance providers cater to the whole market spectrum. It means they have to operate more of a factory underwriting process. Equinox Global only targets large trade credit insurance purchasers and can provide a more tailor-made product."
Holley believes Lloyd's will continue to grow its market share:   "Equinox Global is targeting the UK, Western Europe – especially Germany and France – and the US, " he says. "Our focus in all the core markets is to bring more choice and to develop a market among businesses that don't currently buy trade credit insurance."
(source: LLoyd's of London)