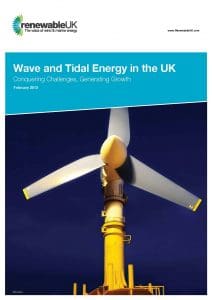 London/UK, 27 February 2013 – GL Garrad Hassan has carried out new analysis questioning the perception that the risk profile of wave and tidal projects is primarily driven by technical challenges. The work was launched today as part of RenewableUK's Annual marine energy report: "Conquering challenges, Generating Growth, " at the industry association's 10th Wave and Tidal conference.
Adopting a 'bird's eye view' of the industry, the work demonstrates that much of the risk associated with marine energy projects emerges from the electrical and political systems in which they must operate. It identifies a number of hurdles – such as uncertainty about financial support under Electricity Market Reform, grid charging and delays, and onerous environmental monitoring requirements.
In a series of risk registers, the work proposes a number of possible mitigation strategies for industry and Government to consider. These strategies range from reallocating the risks of upfront grid charges to making sure that the level of future revenue support is evidence-based.
Robert Rawlinson-Smith, Head of Wave and Tidal Energy Business Development at GL Garrad Hassan, said: "When thinking of wave and tidal energy risks, it is natural to focus on the technical difficulties that arise in the water – relating to installation, survival and reliability. While these issues still challenge the industry, this work shows the need to pay much greater attention to the risks on land – whether the grid, or the politics of Westminster and Holyrood."
David Krohn, Wave and Tidal Development Manager at RenewableUK, said: "In the ten years since the first RenewableUK Wave and Tidal conference, the industry has worked hard to understand and mitigate risk. However, a high level of uncertainty remains over the current status of the industry and the risks it is exposed to in future. We have a responsibility to engage with these issues and provide evidence that can be relied on by government, industry and other stakeholders.
The new analysis by GL Garrad Hassan is the key to doing this effectively.  By highlighting the priority risks to the sector, we can plan a strategy that addresses the primary concerns of the industry. The strategies we have developed will drive collaborative working between industry and government as well as enabling development at the accelerated pace required by today's world."
The full text of the report is available online here: http://www.renewableuk.com/en/publications/index.cfm/wave-and-tidal-energy-in-the-uk-2013
About GL Garrad Hassan
GL Garrad Hassan is one of the world's largest renewable energy consultancies and a recognised technical authority on the subject. It offers independent technical and engineering services, products, and training courses to the onshore and offshore wind, wave, tidal and solar sectors. The renewable energy consultancy currently employs around 1000 staff, in 44 locations, across 26 countries. For more information on GL Garrad Hassan, please visit www.gl-garradhassan.com