Evac – The supplier of complete water and wastewater management systems 12, 000 ships sailing the world's oceans all have this in common – they rely on Evac's solutions onboard.
Evac solves your waste management needs
New requirements for waste management by MARPOL can be easily managed through one source – EVAC. Having equipped thousands of ships with waste and sanitary systems, EVAC is the natural single source provider of onboard waste management systems for your vessel.
From January 1st 2013, new requirements relating to the management waste of ships and rigs entered into force. All waste onboard, except food waste, has to be collected, or incinerated, according to the new IMO Marpol Annex V regulations. This requires storage space for waste onboard. In case there is not space enough compactors and other waste handling systems have to be acquired. Incinerators can be used, but not in all areas. For example in the Baltic Sea this is forbidden. Evac can now provide a solution for the entire onboard waste handling needs.
In short, the revisions to MARPOL Annex V as contained in resolution MEPC.201(62) prohibit the discharge of all garbage into the sea except as expressly permitted under specified circumstances for discharge of food waters, cargo residues, deck wash waters, and animal carcasses. Every ship of 100 gross tonne and above, and every ship certified to carry 15 persons or more, and fixed or floating platforms shall carry a Garbage Management Plan, which need to be brought into compliance with this resolution with a designated person to be in charge. Additionally, every ship of 400 gross tonnage and above, and every ship certified to carry 15 persons or more engaged in voyages to ports or offshore terminals under the jurisdiction of another party to MARPOL and every fixed or floating platform shall carry a Garbage Record Book. Also placards to notify the crew and passengers on the discharge requirements are to be installed and ships of 12m or more in length and on fixed floating platforms.
Discharge at sea of most ship-generated garbage is now prohibited. Raw food waste can be discharged when not comminuted or ground outside a Special Area when more than 12 nm from nearest land and when comminuted and ground to less than 25mm when more than 3 nm from nearest land. Inside a Special Area discharge is possible if more than 12 nm from nearest land and when ground to less than 25mm. Some special requirements apply to rigs and their support vessels. It is recommended that whenever practicable ships use, as a primary means, port reception facilities. To minimize the generation of waste, provisioning practices should be reviewed with ship's suppliers in order to determine the optimum packaging for the products. Options include:
• Reusable packaging and use of containers. Disposable cups, utensils, dishes, towels and rags and other convenience items should be limited and replaced by washable items when possible.
• Where practical options exist, provisions packaged in or made of materials other than disposable plastic should be selected to replenish ship's supplies unless a reusable plastic alternative is available.
• Stowage systems and methods that reuse coverings, dunnage, shoring, lining and packing materials.
• Dunnage, lining and packaging materials generated in port during cargo activities should be disposed of at the port reception facilities as discharge into the sea is not permitted.
• Discharge of cargo hold cleaning agents and additives classified as being harmful to the marine environment contained in hold wash water is prohibited. Discharge Discharge into the sea has been strictly limited under Annex V, and discharge of garbage to port reception facilities is the primary solution. Table 1 summarizes the requirements for garbage permitted to be discharged into the sea.
(Source: http://www.imo.org/ourwork/environment/pollutionprevention/garbage/Pages/Default.aspx )
Table 1. For the full text of the respective discharge requirements please refer to the text of the revised MARPOL Annex V, and for more detailed guidance please consult the 2012 Guidelines for the Implementation of MARPOL Annex V (resolution MEPC.219(63).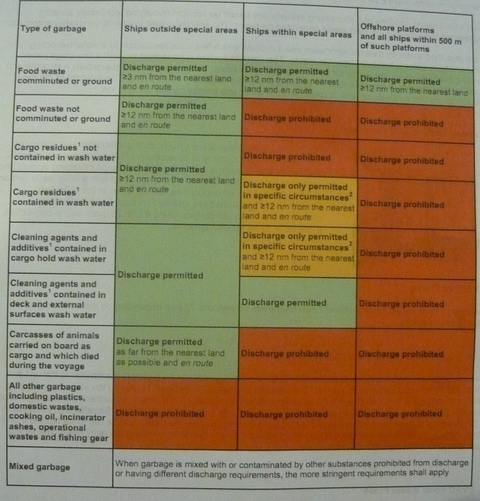 .
s
________
1 These substances must not be harmful to the marine environment
2 According to regulation 6.1.2 of MARPOL Annex V, the discharge shall only be allowed if: (a) both the port of departure and the next port of destination are within the special area and the ship will not transit outside the special area between these ports (regulation 6.1.2.2); and (b) if no adequate reception facilities are available at those ports (regulation 6.1.2.3).
Food Waste Collection
Outside special areas, ships operating primarily beyond three nautical miles from the nearest land are encouraged to install and use comminuters to grind food wastes to a particle size capable of passing through a screen with openings no larger than 25 millimeters. Such a process is recommended even beyond 12 nautical miles because the particle size hastens assimilation into the marine environment. When operating inside a special area, all food wastes must be comminuted or ground prior to discharge in to the sea. All discharges are to be as far as practicable and not less than 12 nautical miles from the nearest land or ice-shelf.
Evac launches Food Waste Collection System
Evac has launched the EVAC Food Waste Collection System. Evac can now supply the entire waste handling system for vessels and rigs, covering both dry and wet waste, from food waste handling to onboard sanitary and wastewater treatment systems.
EVAC provides a complete food waste handling and processing system, designed to handle waste from small to mid size vessels. The system is ideal for merchant vessels and offshore vessels.
The use of macerators, comminuters, shredders compactors, incinerators, and other devices for shipboard garbage processing equipment makes it possible to reduce shipboard space requirements for storing garbage for discharge in ports. Here EVAC's range of waste management products provides a convenient solution.
Evac's food waste handling and processing systems are based on vacuum conveying technology allowing segregated conveying of the food waste generated on board. The entirely closed system is completely automatic. It conveys food waste by pipe transportation into a cyclone which feeds the food waste to a water extracting station, where water is removed from the waste. The vacuum system is generated through a two stage patent pending pump process, one pump for air and one pump for liquid. This generates and guarantees a stronger and more reliable vacuum, a big advantage in avoiding unwanted blockages in the piping. The footprint of the Evac vacuum pump unit and holding tank is small, and the water and energy consumption is low.
1. Infeed Stations with Macerator
Food waste in-feed stations are freestanding. Manufactured entirely of stainless steel they come with all necessary fittings housed in a suitable framework. The hopper is connected to the vacuum collecting system and welded to the tabletop. The tabletop is equipped with a drain sieve and an overflow to limit the amount of free flowing water in the collecting system. Cleaning nozzles are installed on each hopper. The unit connects to the vacuum pipeline using a DN125 quick clamp connection. It can be isolated for maintenance.
2. Vacuum Piping
The system is designed for two different pipe diameters 50 mm and 75 mm depending on the demand and the holding tank capacity.
3. – 4. Food Waste Tanks, Vacuum Generation
Vacuum is generated by a vacuum pump unit. The vacuum is measured by a sensor transmitter in the unit and controlled by an automation logic system. The vacuum is created in the pipeline prior to the vacuum conveying, when a discharge is requested at a feeding station. When a vacuum of 250 mbars is reached, the feeding station opens a gate valve and the food waste is conveyed all the way to the food waste tank. Benefits with this system is the powerful vacuum that will not lead to any piping blockages. Also the piping can be run more flexible than in other systems. The Collecting tank (3) can be sized according to space and holding capacity need. The tank is equipped with a mixing unit.
5. EVAC Food Waste Press
The average dry solids content of the shredded and collected waste is around 5-7%. Before it is suitable for disposal at the incinerator, it must reach a final DS of about 20%. To achieve this condition, the food waste (FW) is fed into a screw type dewatering unit, which squeezes the liquid out of the FW to separate the excess water from the food waste.
6. Heavy Duty Shredder, Tin Can Densifier, Glass Breaker, Cardboard Compactor, Sorting Tables
Compactors reduce the volume of garbage. Typically the output from the compactor is a block of material which facilitates the shipboard storage of garbage and its discharging of the material in a port facility.
EVAC provides a complete range of Heavy Duty Shredders, Tin Can Densifiers, Glass Breakers and Cardboard Compactors as well as sorting tables.
7. – 9. Food and Dry Waste Silos, Evac Incinerators
Incineration conducted in a shipboard incinerator significantly reduces the need to store garbage on board the ship. Shipboard incinerators are designed, constructed, operated and maintained in accordance with the IMO Standard Specification for Shipboard Incinerators (IMO Resolution MEPC.76(40) as amended).
EVAC's incinerator is a furnace designed for burning dry waste, wet waste, sludge oil and most kinds of solid waste. Combustion takes place in a semi-pyrolytic process with the addition of combustion air in order to achieve smoke-free combustion. The shredded burnable waste is fed by gravity into the incinerator feeding chamber.
Evac's complete packages
Evac's waste management solutions with all components, comes in a complete package making installation simple and efficient. It provides the shipyard and ship owner with a reliable and integrated solution with low installation and operational costs.
EVAC Automation System, Other EVAC products
Evac also offers automation systems for the management and control of the waste water process on-board. Automation systems are available for all types of ships, from small yachts to cruise vessels. Evac also provides a range of other waste handling equipment and systems. Contact your dealer for the full range of products.
Thirty years' experience
With more than 30 years on the maritime market, Evac has supplied equipment to more than 10, 000 ships, including all types of cargo vessels but also cruise liners, passenger ro-ro ferries, vessels and rigs for the Oil & Gas offshore industry, naval vessels, submarines, fast ferries and superyachts. Evac provides complete onboard waste management solutions, including their quiet vacuum toilet collection system with ejectors, the MBR and ORCA types of wastewater systems capable of handling all black (sewage) and grey waters (from galleys, sinks, showers) and the food waste collection system, and dry waste and garbage handling, all meeting the strict environmental requirements of IMO, the International Maritime Organization. Evac companies and representatives in more than 40 countries are responsible for the marine business worldwide. Evac companies have Lloyd's ISO 9001:2008 quality assurance and ISO 14001:2004 environmental standards certificates.