Pipeline inspection surveys have been traditionally performed by Remotely Operated Vehicles (ROVs). ROVs are no longer the only vehicles being utilized for surveying pipelines. As technology has evolved Autonomous Underwater Vehicles (AUVs), Remotely Operated Towed Vehicles (ROTVs) and smaller and faster ROVs are becoming more widely used for pipeline inspection projects.   AUVs in particular bring many potential advantages. They can collect data at quick speeds (3 to 6 knots) and cover great distances. AUVs are capable of carrying a similar array of sensors to those used on ROVs.
Highly sophisticated Synthetic Aperture Sonar (SAS) systems are also being used on AUVs and are capable of mapping to resolutions as high as 3 cm. AUVs today carry high definition cameras, allowing image mosaics to be generated along a flight path. These vehicles can also incorporate pipe tracker technology allowing them to fly above the pipe autonomously even when buried.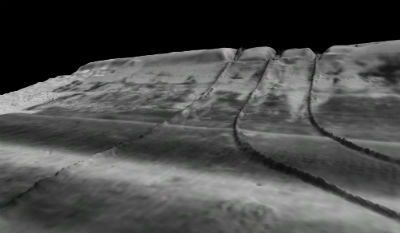 There are some challenges with the use of AUVs, such as the need for more power when extra sensors are added. This can compromise mission endurance or require larger AUVs to house additional batteries. To run an effective AUV survey multiple vehicles are needed allowing the next AUV to be deploy as the first is recovered. While this is mostly due to battery life, it also provides a much needed opportunity to retrieve the many hours of logged sensor data. This currently results in a data processing bottleneck. The likely solution will involve more real time data processing so that what comes off the AUV is ready to be incorporated into the survey deliverable.
Survey deliverables will also see a shift from traditional alignment sheets to databases of geographic information containing properly attributed features in three-dimensional seascapes, with accompanying digital video. This technology known as a Geographic Information System (GIS) is not new, but is finally being recognized as an acceptable survey deliverable for pipeline inspections.
AUVs seem destined to play a bigger role in pipeline inspection surveys as technology evolves and this in turn will drive the need for real time data processing. As well, the GIS deliverable looks set to replace the old fashioned paper one.
*Andrew Hoggarth, Marketing and Sales Manager, CARIS