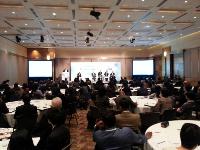 Hong Kong, 13.03.2013 – Shippers and shipping lines both need to raise their game if global container supply chains are not to be habitually subject to wildly fluctuating service levels. This was a key take-away from Day 1 of the TOC Container Supply Chain Asia conference being held in Hong Kong, on 12-14 March.
Addressing the conference session 'Carriers Close Up', Mark Holloway, Head of Supply Chain Asia for global beverage group Diageo, explained that his company's supply chain is focused on "cost, service and quality", in other words a natural continuation of Diageo's corporate culture and approach to its end customers who consume the company's products.
Understanding customer requirements is key to meeting their expectations, he explained. However, he added that in his experience container shipping lines have little or no engagement with their customers either to discuss issues that arise or plans to improve service levels. He argued that the focus was almost exclusively on price, which in times of highly volatile rate movements often leads to unreliable lead times impacting service levels for end customers and unreliable updates on where particular shipments are at any moment along the logistics chain.
These factors have a negative impact on business often resulting in increased inventory and service risks. However, Mr Holloway emphasised that the current poor state of relationships between shippers and carriers was as much the result of shippers allowing that to happen as also being the fault of the carriers. His principal message was that both partners need to improve their communications with each other in order to achieve more collaborative supply chain management.
"It is now the responsibility of shippers to elevate the quality of the conversations we have with carriers and focus on cost, service and quality, and therefore allow us to have an on-going relationship with our supply chain colleagues just I have an on-going relationship with the customers I serve, " he concluded.
From a carrier perspective, Stanley Smulders, Senior Vice-President Asia – Europe & West Africa Trade Management, for MOL Liner, accepted that various strategies recently adopted by carriers do impact supply chains. However, he also pointed out that the response of many carriers has simply been as a result of the lack of sustainable financial returns. The creation of wider alliances, for example, is an obvious response to the need to phase in larger vessels economically in order to ensure that the ships are fully utilised. But this will likely result in fewer sailings, which has a direct effect on supply chains.
Shipping lines also need to reduce costs, through measures such as slow steaming, he continued. He asked rhetorically whether this is likely to change any time soon, but the answer was "very unlikely" as long as costs such as bunker fuel stay where they are.
Mega-vessels, mega-ports
The impact of mega-vessels and mega ports on the supply chain was also a principal theme of the opening day. In a keynote speech, Mohammed Al Muallem, Senior Vice-President & Managing Director UAE Region, for DP World, noted that ports are integral to supply chains. Moreover, containerisation has expanded the hinterland of ports, leading to the development of regional, local & extended gateways.
Consequently ports have evolved as enablers adding "substantial value" to the freight chain, specifically in terms of facilitating multimodal infrastructure, e-information exchange and integration with hinterlands. This is encouraging a move towards 'port-centric logistics' that provide connectivity between supply chain enablers.
Mr Muallem continued by saying that ship size has doubled over the past decade and the market will continue to see increasing numbers of 'mega-ships' coming onto the market. With these increasingly large vessels, hub & spoke concepts for ports are likely to be dominant and will enable shipping lines to pursue the economies of scale they are seeking.
This has significant implications for ports. Larger ships mean deeper drafts, wider channels and longer berths. Operational efficiency is also of key importance as the mega-vessels will need to load/discharge greater numbers of containers with each vessels call.
TOC CSC Asia continues until 14 March at the Hong Kong Convention and Exhibition Centre.