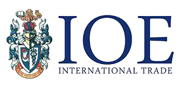 The London Branch of the Institute of Export  (IOE)* presents Opportunity Brazil, which will be held at The Arab British Chamber of Commerce, London on Wednesday 24th April 2013 from 3.30pm until late. 
Viewers can log on/open the pdf with all relevant information: Branch Event – Opportunity Brazil Flyer
The Institute of Export (IOE) is the only professional membership body in the UK offering recognised and formal qualifications in international trade at all levels from the equivalent of an NVQ1, Young International Trader through to a Foundation Degree in the Professional Practice of International Trade.
The IOE supports the interests of everyone involved in trading globally, importing and exporting by providing their members with a full range of communications. This includes daily foreign exchange bulletins to a monthly journal offering expertise in all aspects of trade, marketing through to compliance issues. Two quarterly magazines, Global Trader offering business insight into new markets and Freight Industry Times offering a logistics view of how international trade works.
With an extensive UK regional branch network the IOE provides a platform to network with members. An excellent International Trade HELPDESK is also available to answer queries quickly and efficiently allowing businesses to carry on trading.  To find out more visit www.export.org.uk