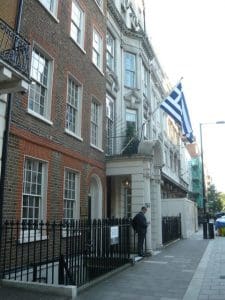 The personal relationship, friendship and mutual appreciation between the late statesmen of Greece and Great Britain  Eleftherios Venizelos and David Lloyd George during the period 1912 – 1936 , was the central theme of a series of exhibits last night on show at the Greek Ambassador's residence* in Mayfair on the occasion of the visit of Greece's Foreign Minister Dimitris Avramopoulos to London.
The contents of this meticulously selected display – photographs and personal letters, from the Lloyd George Papers, House of Lords and the Benaki Museum in Athens, and appropriate presentation by the Greek Embassy's Cultural Attaché Victoria Solomonidou was overwhelmingly superb!
In addition to Dimitris Avramopoulos, present where the Chairman of the Foreign Affairs Committee of the House of Commons Lord Boswell of Aynho, the Archbishop of Thyateira and Great Britain Gregorius, the new British Ambassador in Athens John Kittmer, the Cyprus High Commissioner Alexander Zenon, and  Aristides Kalogeropoulos, secretary general of Greece's Foreign Ministry on European Affairs.
We spotted members of the Greek shipping fraternity in London, Andreas Tsavliris with his son Alexander, Captain Panagiotis N. Tsakos, Mrs. Chantal Mitropoulos, John M. Lyras, Michael Monios, Nicholas and Pyghi Skinitis, Stathes Kulukundis, Sophie Kydoniefs, Sir David Dain, Chairman of the Anglo-Hellenic League, Spyros Polemis, Prof. Roderick Beaton, NBG's Stratos Chatzigiannis, John Makris and his wife, Tryfon Kedros at 101 years old an especially distinguished presence, Rt. Commander (HCG) Constantinos Amarantides, director of the GSCC, Vassiliki Campbell  country manager for the National Bank of Greece, Alexandros Kedros, Gallerist Maria Antypa, Dr. Philip Mavroskoufis, Sir Michael Llewellyn-Smith and David Landsman, former Ambassadors in Athens were there too, as were members from the London Greek community headed by Stephen N.J Schilizzi, members of  the FCO, other associations, press and media representatives, as well as the Greek Consul Despina Hasirtzoglou, the Councesllors  of the Greek Embassy Nikolaos Argyros and Georgina Soultanopoulou and other officials,
Worthy of mention is that among the exhibits  was an anecdotal hand written note of condolence from Lloyd George to Venizelos's widow, Helena Schilizzi, referring to Venizelos as "the greatest Greek politician since the era of Pericles.".
The Greek Ambassador Konstantinos Bikas, introducing the event, stressed that this exhibition was a tribute to the values of friendship between two friends and allies, who fought side by side in the First World War. It was a friendship above their careers and fate, symbolising the century-old special bonds between Greece and Britain, with Greek Independence being the first major cause!
Foreign minister Avramopoulos emphasised the strong bonds between the two nations, recalling that the Greeks as well as the British never forget those who in the past have stood by each other. On another note, he expressed his optimism over Greece's position vis-à-vis the recent financial situation, saying that this major problem would strengthen the Greeks  to go forward with development in the same way that Venizelos's vision was for Greece  almost a century ago; had paved the way forward. More importantly and in view of his meeting today with his counterpart William Hague, the minister praised the Greek shipowners who spearhead Greece's international capabilities on the world stage, making him more than proud to stand on at least an equal footing when he meets his counterparts on a global basis.
The last to speak was Lord Boswell who heartily thanked the contributors to this unique exhibition, emphasising his late father's personal relationship with David Lloyd George – a poignant message for the occasion.
Afterwards at the reception with excellent drinks and dips, the discussion continued until late – a rare event…
Today, Dimitris Avramopoulos met with his counterpart, and here follows what was stated:
William Hague: "Thank you very much and good afternoon.  It's been a great pleasure this afternoon to have my friend  and college and partner Dimitris Avramopoulos here today and welcome him very strongly  to London. He is determined as I am determined to intensify the links between Greece and the UK to make sure that we are working together on all of the regional and European issues that we face together."
Mr Hague stressed that:"we had a good discussion today about the Middle East peace process and the importance we attach to that,   the two state solution, to the terrible crisis in Syria and the need to come to a political solution there and assist in every way we can for the humanitarian suffering in the region. We've discussed the enlargement of the European Union in the Western Balkans and the needful reform in Europe in a way that helps all of our economies to succeed and the excellent and strong historic relations between the UK and Greece that we are now determined to build on, I think in a steadily improving  atmosphere of cooperation and sharing ideas.
So I'm very grateful to Dimitris for being here today and thank you very much indeed for this discussion."
Dimitris Avramopoulos said: "I very simply confirm of what my good friend William said. But allow me add something also, as well as to express thanks for this very very warm welcome in the city of London because all along with the fantastic weather –I must tell you I was surprised to see that sunshine  is  coming back to this great city- but more important was what we really did today".
He continued: "A new beginning is on in our bilateral relations. As William said, Great Britain and Greece historically always shared excellent relations .We are the two edges of Europe but we work together within Europe, for the future of Europe. We talked about all these issues Mr Hague mentioned before and we are determined to play positive role in solving all these problems in our region. We talked about the Middle East, we talked about Syria, we talked about the economic crisis in Europe and we have decided to work closer in the future in order to contribute in all this effort to solve all these problems."
He went on: "So a new chapter  in our relations has been agreed. I invited  William to visit us in Greece, to accompany the 2.5 million British  [tourists] that have decided to come to Greece this year and we believe William next year this will be even more, and you know in Greece they find a very hospitable  and friendly environment. They enjoy our hospitality but at the same time we have extended our invitation to your businessmen, to your investors to be there. We have created a very friendly and hospitable environment for doing business in Greece.
"The economic crisis has put us in front of great responsibilities, we change the country, we change everything and in this new beginning we want the British to be as always close to us. So in this spirit of solidarity and friendship we decide to work together and I want to express again my thanks and I look forward to seeing you in Athens soon."
The Greek Foreign Minister was also interviewed by CNN in London, answering to questions on the Greek economic crisis that it is not just a Greek crisis but a European one. This was a great reply, considering the high level of unemployment, the developments in Turkey and Africa and the Middle East, and what was covered in his meetings with the US and Chinese governments,   and the expected tourist influx into Greece. He ended with the role of the participation of Great Britain in the European Union, a role that Greece knows and understand too well!
*formerly owned by the late Helena Schilizzi, and Venizelos' residence in London
"F"