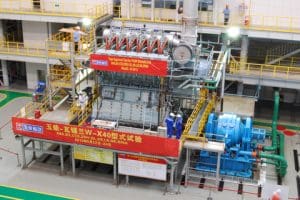 Wärtsilä Corporation, 10 June 2013 at 1 pm EET – 
Wärtsilä, the marine industry's leading solutions and services provider has announced that its 
Wärtsilä X40
two-stroke engine has successfully passed its Type Approval Test (TAT). The testing was carried out in Zhuhai, China, at Wärtsilä's licensee Yuchai Marine Power Co. Ltd (
YCMP
).
In passing the TAT, the engine is verified as having fulfilled all classification society requirements, and will be fully introduced to the market following its sea trials, which are now being undertaken. An important feature of the testing was meeting the SOLAS (Safety of Life at Sea) standards. With a single engine powering the propeller, the engine must be capable of continuous operation under all conditions.
The Wärtsilä X40 as well as the Wärtsilä X35 engines feature Wärtsilä's second-generation version of its well proven electronically controlled common rail system with time controlled fuel injection. The Wärtsilä Generation X Engines feature a higher stroke to bore ratio thus achieving lower engine speed and lower brake specific fuel consumption (BSFC). With this technology the fuel injection for each cylinder, as well as the cylinder lubrication, is controlled by a single module to provide excellent fuel efficiency and reliability as well as lower operational costs. The engine also incorporates the state-of-the-art UNIC-flex control system, which is based on Wärtsilä's UNIC (Unified Controls) platform.
"The TAT validation procedure is comprehensive and very demanding and we are delighted to announce that the Wärtsilä X40 engine has passed this milestone with flying colours. The key value adding feature of this engine is that its high level of efficiency lowers the operational costs for owners, operators and charterers. In the current market conditions, this is extremely important, " says Mr Martin Wernli, Managing Director, Wärtsilä Switzerland and Vice President, Wärtsilä Ship Power, 2-stroke.
The Wärtsilä X40 and Wärtsilä X35 cover the small-bore end of the market. The engines will be used for smaller bulk carriers, product tankers and container feeder vessels. It is a segment where Wärtsilä is making its presence increasingly felt after not having been present for a number of years.
Wärtsilä in brief
Wärtsilä is a global leader in complete lifecycle power solutions for the marine and energy markets. By emphasising technological innovation and total efficiency, Wärtsilä maximises the environmental and economic performance of the vessels and power plants of its customers. In 2012, Wärtsilä's net sales totalled EUR 4.7 billion with approximately 18, 900 employees. The company has operations in nearly 170 locations in 70 countries around the world. Wärtsilä is listed on the NASDAQ OMX Helsinki, Finland.