12.06.13 – The Nautical Institute tackled the crucial topic of passage planning and how to stay safe by utilising best practice – with the latest edition of its successful magazine The Navigator. The third issue of the free magazine, produced three times a year for navigation officers, included a number of passage planning issues, debates and feedback.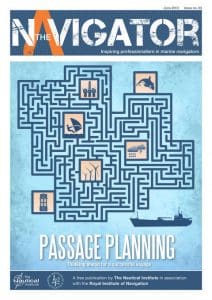 The Navigator's editor, Emma Ward, commented: "We felt that passage planning is so integral to successful, efficient sea journeys that the topic deserved a dedicated issue devoted to it – and early on in the life of the magazine too. We have been fortunate enough to be able to learn of the experiences of navigation officers at varying stages in their career, who have all shared their expert thoughts and advice with us."
Passage planning articles in the third issue of The Navigator include an account of shore-side passage planning from a vetting and inspection Captain working for the world's largest oil and gas company and a series of personal reports of good – and bad – passage planning experiences. Other articles include an accident report of an incident caused by inadequate planning; an interview with a  serving navigator and an analysis of data integrity in the context of marine passage planning.
David Patraiko, Director of Projects for The Nautical Institute, added: "Planning ahead can help keep you out of trouble, and reduce the risk involved in at least some of those decisions. In this issue of The Navigator we have looked at the traditional role of passage planning; how modern developments can be used to best effect, and how to use forward planning to stay safe."
The Navigator is produced by The Nautical Institute with support from the Royal Institute of Navigation. It is available in printed format or as a pdf on The Nautical Institute website. Printed copies are currently distributed alongside The Nautical Institute's membership magazine, Seaways, as well as through missions in ports and maritime training establishments.
The Nautical Institute is an international representative body for maritime professionals involved in the control of sea-going ships. We provide a wide range of services to enhance the professional standing and knowledge of our members who are drawn from all sectors of the maritime world.