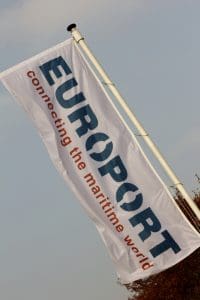 Europort 2013 will showcase the innovative technology available that is designed to meet shipping's critical challenge posed by environmental restrictions under 'Tier III' legislation.
Radical tightening of permissible nitrogen oxide and sulphur emissions from ships will change shipping profoundly after January 1, 2016, particularly within Emissions Control Areas. Staged just over a year before the new regime comes into force, November's Europort 2013 will offer the maritime and offshore sectors the chance to find out how technology innovators have risen to regulatory challenges, and consider their actions before new restrictions bite.
The International Maritime Organization's Tier III restrictions require the approximate 74% reduction in NOx emissions when compared to Tier II-type engines. Permissible NOx emissions under Tier III are restricted to between 3.4g/kWh and 2.0g/kWh, depending on an engine's rated speed.
Shipowners also need to address tightening sulphur dioxide emissions restrictions from 2015, particularly in ECAs. Under the currently agreed schedule, the amount of sulphur permitted in marine fuels will fall in ECAs from a current 1% to 0.1% in 2015, and globally in 2020 from 3.5% to 0.5%.
In short, it will simply no longer be permissible to burn heavy fuel oil (HFO) as freely as before. To meet the regulatory demands, owners will either have to operate on lower sulphur fuel or distillates, burn gas, fit an exhaust gas scrubber, or change their operating profile.
Understandably, both future fuel selection and the energy efficiency of ships already built and in service are key themes in both the 'Advanced Technology' and 'Mare Forum' conference programmes that are integral to Europort 2013.
Real progress on one of the industry's future fuel options will be highlighted in the 'Pioneering with LNG' session at the Advanced Technology Conferences, where Dutch expertise in inland operations, shipbuilding and marine equipment design has come into its own. Mare Forum will address the wider strategic issues on future trends in fuels, as part of a wider debate on 'eco ships', using the stimulating, free-flowing and informal approach to discussions that is the hallmark of the Mare Forum formula.
Exhibiting efficiency
Tier III and how to address it are also themes high on the agenda for exhibitors at this year's Europort. "We have developed a 'Green Route' specifically to guide exhibition visitors through the companies recognised for the technologies they have developed to meet environmental concerns, " says Raymond Siliakus, Europort Exhibition Manager. "Visitors to Europort 2013 need to be able to look beyond the buzzwords and explore the real progress the technical innovators are making to meet and exceed emissions regulations, " he says.
GE Marine, for example, will be drawing attention to 12V250 Marine Diesel Engine. The company recently confirmed the 12V250 as its first marine engine meeting both US Environmental Protection Agency Tier 4i and IMO Tier III in-engine emissions requirements without the need for exhaust gas after-treatment. GE is now able to offer its L250 and V250 medium speed marine diesel engines (1, 550 – 4, 650 kW) without a Selective Catalytic Reduction system (SCR).
"This new technology allows the marine industry to meet the upcoming emission compliance requirements and reduce both capital and operating expenditures." says John Manison, general manager of GE Marine.
In addition to meeting emissions compliance, the GE 12V250 MDC engine has increased power over the IMO Tier II model. The engine's new two-stage turbo charging also offers a faster response time.
GE's L250 engines rated at less than 2, 000 kW will meet EPA Tier 3 emission levels ahead of schedule. Depending on duty cycle and application, the L250 engines have greater than 5% improved fuel consumption compared to Tier 2 standards. In addition, the 8L250 and 12/16V250 engines rated at more than 2, 000 kW will meet EPA standard path Tier 4i (interim) requirements in 2014.
Reality check
Europort visitors may also wish to quiz MAN Diesel & Turbocharging about the latest addition to its four stroke range, L35/44DF, which is available in both dual fuel and gas only versions. The DF version complies with IMO Tier II emission limits in diesel mode and IMO Tier III limits in gas operation. In line with coming choices facing shipowners on fuel use, MAN Diesel & Turbo made a high degree of fuel flexibility (HFO, MDO, MGO and natural gas) a primary objective in developing this engine.
MAN Diesel & Turbo says that L35/44DF engine is a significant step in marine engine technology, not least because its attributes can be retrofitted to engines already in service – and specifically to the popular 32/44CR series Tier II-compliant engines.
Others vying for attention will include Rolls-Royce and ABB, the former of which has taken a lead in developing smaller gas-powered engines, while the latter's Crane and Marine Business Unit has developed a complete suite of energy efficiency software to optimise fuel use and other energy consumers onboard ship.
Separate exhibitor ABB Turbocharging, meanwhile, will come to Europort to show off its new A200-L generation single-stage turbochargers for low-speed two-stroke engines, which the company says represent a 'quantum leap' in the technological development. The A200-L has up to 30% additional volume flow, which to date is fully the equivalent to one size smaller in a series of turbochargers.
Special additions
As ever, new vessel designs are also a feature of this year's Europort, and here too environmental imperatives are central to the innovations on show. Typical is the new PSV 3300 offshore vessel from Damen Shipyards, the starting point for its new portfolio of offshore vessels.
Specifically designed to Damen's 'E3' principles – to be Environmentally friendly, Efficient in operation and Economically viable – the first PSV 3300 was delivered in July to Norwegian owner World Wide Supply. The design features a wave piercing bow, slender hull lines, and diesel electric propulsion with azimuth stern drives, in a combination that minimises fuel consumption. Long smooth lines in the entire form also have a positive effect on the durability of coatings.
Damen is also responsible for delivering the first vessels built in Europe to the 'E-KOTUG' design for Kotug, which features a hybrid Rotor®tug solution developed to reduce emissions, improve fuel-efficiency and cut noise. The Rotor®tug approach means energy can be stored for standby or very low power operations, so that vessels can perform these parts of their duties without noise or emissions. Mid 2014 will see delivery of the first Kotug vessels built to this design, in the shape of two hybrid Rotor®tugs ART 80-32 and Kotug has issued an open invitation to visit booth 6608, where the Rotor®tug company will be present to go through the technology.
This solution is, however, no means the only one that looks to optimize fuel consumption by providing innovative solutions to real life operational needs. Van der Velden, another company along the Europort 'Green route' will be presenting its environmentally friendly Van der Velden® FLEX tunnel, whose ability to retract confers major benefits in terms of speed, loading capacity, manoeuvrability and reduced fuel consumption. With the tunnel embedded into the vessel hull, resistance is lowered and efficiency increased. When sailing in shallow waters the Flex tunnel is deployed to ensure sufficient water flow to the propellers and maintain their efficiency.
Driving ships in the most efficient way possible through the water is not only a matter of a vessel's physical, or indeed mechanical, attributes. Polish company Enamor, for example, is exhibiting at Europort 2013 to draw attention to the suite of control and automation products it has developed that address issues raised by the Ship Energy Efficiency Management Plan (SEEMP) arrived at by IMO.
These will include the company's Propulsion Control Assistance System ETNP-10 – a cost-effective drive control that takes into account the draft of the ship, its current load and the rotation speed of the shaft. The device allows users to observe the field of drive and to initiate an immediate response when limit values are exceeded. Parameters such as torque, power, rotating speed, vessel's speed, efficiency, etc. are constantly measured and analyzed.
Enamor will also exhibit the Fuel Consumption Monitor EFCM – a tool dedicated to control current fuel consumption for use on ships equipped with pulse flow meters. The system measures the consumption of low and high sulfur, heavy and light oil by the main engine, auxiliary engine and boiler. Measurement results are displayed on a colour touch screen. The company will also present the E-VesselTracker, a set of tools designed to achieve the best Ship Performance.
Europort 2013 represents one of the last chances for the industry to gather before Tier III restrictions change the way ships operate, the fuels they consume and the way both are documented. As Europort's Exhibition Manager Raymond Siliakus observes: "Our experience of the maritime industry is that visitors will arrive knowing what information they need to find and with only a limited amount of time to find it. It is also our experience that there is no substitute for putting the questions you want answered face to face."