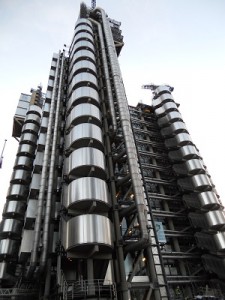 Wednesday  24 July 2013 – Lloyd's Patriotic Fund has awarded a donation of £200, 000 to the charity Veterans Aid to support its Personal Empowerment Programme (PEP), which helps veterans who have encountered significant problems to make a fresh start. (source: Lloyd's of London)
The programme provides accommodation for those who are homeless or at risk of becoming homeless; counselling and treatment for those with substance abuse and addiction issues; education, vocational and skills training and practical assistance and advice for individuals and families.
Through this donation Lloyd's Patriotic Fund will support the programme for one year from 1 July 2013 to 30 June 2014, helping approximately 450 individuals.
Michael Hardingham, Chairman of Lloyd's Patriotic Fund, said, "It is a privilege for the Lloyd's Patriotic Fund to work with Veterans Aid, often referred to as the A&E of the Veterans' world, and to support the vital work it does in helping veterans who have experienced extreme difficulties get back on their feet."
Dr Hugh Milroy, CEO of Veterans Aid, said, "Veterans Aid has adopted Churchill's mantra of 'Action this day' because any delay in delivering help is unacceptable for a man, woman or family in acute need. Our interventions are immediate and our support tailored specifically to the requirements of the individuals concerned.
"Where this involves longer-term investment it can be costly but, as a result, those who graduate tend to be successful. We are only able to operate on this basis because of the generosity of supporters, " he continued.
"This significant donation from Lloyds Patriotic Fund will give us the freedom to make the best possible investments in those we help, for a considerable period of time. We are utterly delighted to be recipients of such a generous donation and proud that Lloyd's, in making the award, acknowledges the value of the work that we do."
Veterans Aid has been looking after ex-servicemen and women in crisis since 1932 and has an unparalleled record of success in dealing with UK for veterans in crisis. It works closely with all the major Service charities to ensure that replication of effort is avoided and resources used to best effect.
Lloyd's Patriotic Fund, founded in 1803 to assist the many casualties of the Napoleonic Wars, is one of the oldest military charities of its kind and has been providing support to the armed forces community on behalf of the Lloyd's of London market for over two hundred years.
Lloyd's Patriotic Fund provides support to a number of organisations with a particular focus on those who are disabled or facing poverty, illness and hardship.
Since 2003, Lloyd's Patriotic Fund has made grants of over £2m to help Britain's Armed Forces