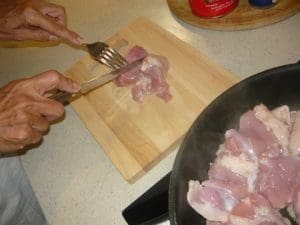 Overreliance on a small number of suppliers can leave restaurant chains exposed to contamination. (source: Lloyds of London)
It is not just organisations in the manufacturing sector that are scrutinising vulnerabilities in their supply chains.
In the food services industry, restaurant chains and franchisees increasingly source their ingredients from a small universe of suppliers. This offers economies of scale but also means their exposure to food borne illnesses and food contamination can be magnified.
Take a well-known Mexican fast food outlet in the US. In 2006, lettuce – an ingredient used in 70% of the fast food outlet's products – was linked to an E. coli outbreak that left 71 people seriously ill in the US Northeast.
A single supplier was responsible for distributing the lettuce to restaurants in New Jersey, New York, Pennsylvania and Delaware. At certain points during the outbreak up to 90 restaurants were closed.
In another example from the US, one of the worst E. coli outbreaks occurred in 1993 when four children died and 600 others fell ill after eating undercooked burgers at a fast food chain It cost the company millions in lawsuits and sales and revenues as customers shunned the brand.
"You used to have someone in the kitchen chopping up the lettuce and vegetables and someone else handling the meat, " says David Burke, senior class underwriter, product contamination at Catlin. "That doesn't happen anymore. The business model for franchise restaurants has changed and everything comes pre-packaged and premade and the people in the kitchen put the product together."
"While that results in a lot of efficiency in the food service industry it does mean if that bag of lettuce has got e-coli in it, it's potentially going to hundreds of outlets. In the past, the contamination would be quite localised, and now it can spread dramatically through a brand's network of restaurants."
Supply chain vulnerabilities
While the US has the largest fast food sector in the world, franchised restaurants have become a permanent feature in other markets too. Over the past five years global fast food restaurants (worth a massive $526bn in revenue) have expanded at a rate of 2.5% annually, in spite of a struggling global economy.
"If you walk down a UK high street now you'll see far more global brands – franchised restaurants – whereas 20 years ago it would have been local restaurants, " says Ian Harrison, a product recall expert at Lockton. "So you get this franchised system of quality control which means you should have global homogenous food, but if the system goes wrong you could get quite significant economic exposures."
"Also you've got the fact that franchise systems tend to encourage people to buy from the same suppliers, " he continues. "I know of a well-known fast food chain that buys all its burger buns from two suppliers in the whole of the UK. So if there was a problem with either of those suppliers there would be a massive knock-on impact."
Food safety (63%) and quality (54%) are the areas of supply chain management that companies in the food services industry are most concerned about. This is according to a survey published by DNV Business Assurance and GFK Eurisko in May 2013.
It also found that organisations that have adopted chain-wide risk mitigation actions had benefited materially from them in terms of product quality enhancement, competitive advantages and brand reputation.
While risk management is vitally important, cases of food contamination remain frequent. Europe's Rapid Alert System for Food and Feed received 8, 797 notifications in 2012 alone, with a total of 526 reporting on serious risks found in products on the market.
Many restaurant owners purchase restaurant contamination insurance to provide business interruption insurance in the event of a food-borne illness or malicious tampering.
"If a restaurant was flooded and had to close for two weeks its property policy would pay for the business interruption, " explains Burke. "If the same restaurant is shut for two weeks because of a norovirus outbreak you have the same business interruption but it wouldn't be covered under a conventional property policy. This is where restaurant contamination insurance steps in."
"An important part of our product is our consultancy services we offer with the insurance product, " he continues. "In the event of a claim our consultant can give advice on crisis public relations, how to deal with food regulatory authorities and how to engage with the public. And our clients also use these services to look at their risk exposure on a proactive basis."
"Historically it's been a luxury purchase but when you see big contaminations in the US it does open people's eyes that this is a major risk exposure for their brand, " he adds.