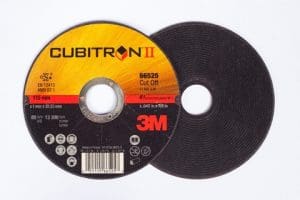 The launch of a new range of bonded abrasive cut-off wheels from diversified technology company 3M is set to revolutionise the metal processing industry.
Offering a significant increase in productivity as well as a significantly longer life compared to alternatives, the new range utilises the highly advanced abrasive grain technology first introduced with the Cubitron II Abrasive Belts and Discs from 3M.
The new cut-off wheels require only a third of the pressure to produce the same cut, compared with traditional wheels made from aluminium oxide, zirconia and ceramic grain, meaning that physical stress on the operators can be reduced, helping them to remove more material with the same amount of effort.
Industries set to benefit from this innovative cutting solution include general metal fabrication, shipbuilding, structural steel, oil and gas, agriculture and construction machinery. The cut-off wheels can also be used on all types of ferrous metals, stainless steel, alloy steels and cast iron.
David Atherton, senior marketing executive for the 3M Abrasive Systems Division, explains: "The innovative cutting technology for more effective cutting and longer-lasting sharpness offers a huge payoff for the metalworking industry. The combination of less wear and tear for operators and effortless cutting achieves three times the output of conventional products.''
Pioneering technology
Cubitron II product solutions from 3M have reinvented abrasives over recent years, leading the way with their unique, precision-shaped ceramic abrasive grain – each individually formulated into a triangular structure to maximise cutting potential. The self-sharpening triangles fracture as they wear, forming new, super-sharp points and edges. These slice cleanly through metal allowing the cut-off wheel to stay cool and last longer. This has the potential to deliver significant advantages in productivity and consistency, as well as longer service life.
David Atherton adds: "This technology is truly remarkable. The Cubitron II abrasive belts and discs have already established the credentials of this technology and we are confident that customers will rapidly see the benefits offered by this extension to the range. Customers will see significant financial and practical advantages, as well as the benefits to workers."
For more information about the range of Cubitron II abrasives from 3M, visit www.3M.co.uk/abrasives or call 0870 60 800 90.
3M and Cubitron are trademarks of 3M Company.
About 3M
3M captures the spark of new ideas and transforms them into thousands of ingenious products.
Our culture of creative collaboration inspires a never-ending stream of powerful technologies, creating innovative products that help make the world healthier, safer and more productive. Well known 3M brands include Scotch, Post-it, Scotchgard, Thinsulate and Scotch-Brite.
With $30 billion in sales, 3M employs 88, 000 people worldwide and has operations in more than 70 countries. The UK and Ireland is home to one of the largest 3M subsidiaries outside the USA, employing more than 3, 000 people across 19 locations, including nine manufacturing sites.
Products manufactured in the UK include coated abrasives, personal safety equipment, adhesive tapes, industrial microbiology products, drug delivery systems, high-performance coatings, secure documents, passport readers and imaging systems.