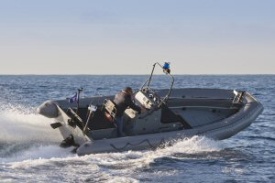 Anaheim, Calif., – October 2013 –  (Marine NewsWire) Willard Marine, a 56-year-old builder of composite and aluminum boats, is emerging as a leading supplier of patrol boats for international navies. Recent sales include the Lebanon Armed Forces, Egyptian navy, Ukrainian navy and Iraqi navy, under U.S. Foreign Military Sales (FMS) programs.
Lebanon has acquired four Willard Marine 11-meter cabin rigid-hull inflatable boats (RIBs) and four 11-meter open console RIBs for coastal patrol missions through the U.S. Coast Guard FMS office. The Lebanese navy had also acquired eight of the 11-meter boats under an earlier contract.
The Egyptian navy is acquiring three 5.4-meter RIBs via the U.S. Navy FMS program office through Halter Marine. They will be used for rescue and patrol missions, launched from a larger naval platform offshore.
Willard Marine is supplying three 7-meter aluminum RIBs to the Ukrainian navy through U.S. Navy FMS. They will be used as rescue and patrol boats, capable of launching from larger ships. Ukraine previously had acquired three Willard Marine 5.4-meter boats.
The Iraqi navy is accepting delivery of ten 7-meter aluminum RIBs, built by Willard Marine. They will be serving as patrol boats and as tenders for larger vessels. Willard Marine also supplied the original 7-meter aluminum RIBs for the Swiftship's patrol boats under a U.S. Navy FMS contract.
"These FMS sales validate Willard Marine's position as the preferred supplier of RIBs for the world's navies, " said Ulrich Gottschling, president of Willard Marine. "With more than 50 years experience, we understand how to design and build rugged and reliable patrol boats in fiberglass and aluminum to meet the demanding requirements of military missions. That's one reason we get so many repeat orders from customers who are familiar with our high-quality boats."
Willard Marine offers a wide selection of multi-mission patrol boats for international navies and coast guards, ranging from 4.9 to 8.2 meters with fiberglass and aluminum hull construction.
Willard Marine will showcase its boatbuilding capabilities at the 2013 WorkBoat Show in New Orleans, Oct. 9-11, in Booth 2343. Members of the press are invited to schedule interviews with the management team by contacting Jim Rhodes,  +1 (757) 451-0602, orjrhodes@rhodescomm.com.
About Willard Marine
Headquartered in Anaheim, Calif., Willard Marine was founded in 1957, and is recognized as a leader in the design and construction of high-quality fiberglass/composite and aluminum boats for military, homeland security, commercial, law enforcement, SOLAS and other market segments. The company is privately held.