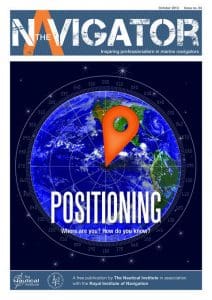 15.10.13 – Positioning at sea has come under the spotlight this autumn, thanks to the latest edition of The Navigator – a 12-page magazine produced three times a year by The Nautical Institute and aimed at marine navigational officers.The fourth issue was launched on 1 October and led with features on positioning, alongside industry interviews, comments and advice.
Editor of The Navigator, Emma Ward, said: "Positioning as a topic covers a huge amount of ground; from modern technology and techniques to more traditional methods and viewpoints. We wanted to share our ideas and experiences with our readers to help them grasp a clearer understanding of the vital role positioning plays in their work at sea."
Among the articles in the fourth issue of The Navigator are a personal account from a navigational officer whose grounding of a hopper dredger made the local TV news. Articles also include an accident report, an interview with a cadet training officer and an analysis of different types of positioning methods and tools, including global navigational satellite systems.
David Patraiko, Director of Projects for The Nautical Institute, added: "The age-old adage for mariners has always been 'never rely on one source for positioning'. The modern navigator lives in interesting times when it comes to positioning because advancement in technology is constantly charging ahead. It is therefore essential for them to learn as much as possible about positioning, which is why we have dedicated this issue of The Navigator to the subject."
The Navigator is produced by The Nautical Institute with support from the Royal Institute of Navigation. It is available in printed format or as a pdf on The Nautical Institute website. Printed copies are currently distributed alongside The Nautical Institute's membership magazine, Seaways, as well as through maritime training establishments.
The Nautical Institute is the international professional body for qualified seafarers and others with an interest in nautical matters. It provides a wide range of services to enhance the professional standing and knowledge of members who are drawn from all sectors of the maritime world. Founded in 1972, it has over 40 branches world-wide and some 7, 000 members in over 110 countries.