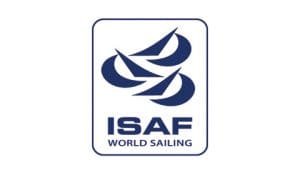 Date: Tuesday 15 October 2013 – ISAF Sailing World Cup Qingdao marks the start of the journey to the Santander 2014 ISAF Sailing World Championships for the 131 sailors from 24 nations.
Santander 2014 is the first qualification regatta for the Rio 2016 Olympic Sailing Competition and hopeful sailors are using the ISAF Sailing World Cup series to test themselves in a range of conditions against the best in the world.
Qingdao, China's sailing capital brought strong winds and glorious sunshine on the second day and exceeded the wind limits for safe racing.
A cold northerly wind consistently blew in between 26-28 knots with gusts up to 37 knots. The Race Committee held out until 15:00 local time before postponing for the day.
South Africa's Asenathi Jim and Roger Hudson have been using the World Cup series to improve and push ahead having had a rushed 18 month campaign for London 2012.
They sneaked through to London 2012, taking one of the final Men's 470 Olympic spots and are enjoying a lengthier campaign for Rio 2016 having returned to the water soon after the Olympic Games, "We're still playing catch up and the target last time was to qualify but the target is higher this time round so it's nice to have a bit more time but we're still under a lot of pressure to get where we want."
Fifty perfect of the Rio 2016 Olympic Sailing Competition places will be taken at Santander 2014 and the South Africans have their eye on one of the spots, "Every World Championship is a big one and Santander is a bit special because it's the first Olympic qualifier and it's a long way away from the Games and it would be nice to get that done but it will be a tough one.
"We're pushing for every improvement we can make at this point."
In a 15-boat fleet the South Africans are enjoying not only the racing, but the Chinese hospitality, "It's quite a forward thinking event so we are pleased to be a part of it. It's very well organised, everyone is very helpful and it's a very interesting fleet.
"So far the weather's been very mild and there's some nice breeze. We heard it was so light during the Olympics and it's been pretty breezy so far and different conditions from the Beijing Games."
Like Jim and Hudson, Trinidad and Tobago's Andrew Lewis is focused on Santander 2014 and will be aiming to hit top form come September 2014.
After the opening two races in the Laser at ISAF Sailing World Cup Qingdao Lewis sits in 10th overall but for the Trinidad and Tobago sailor he has key events on the horizon, "From where I come from we have the Central American and Caribbean Games so I'll look to peak in those as I go towards Rio. I look to win medals in those games."
Whilst medals will be in sight at the CACG Games in Veracruz, Mexico in July 2014 the big prize for Lewis will be Olympic qualification at the 2014 ISAF Worlds, "I certainly want to qualify at Santander. If you look at my calendar that is my peak event and I look forward to being my fastest as that point in time."
With time on their hands for the remainder of the day sailors have an opportunity to take in the sights and sounds of Qingdao before the third day.
Racing is scheduled to start at 11:00 local time on Wednesday 16 October 2013 with three races planned across all fleets