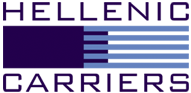 M/V KONSTANTINOS II time chartered for about 6 to about 8 months
Hellenic Carriers Limited, ("Hellenic" or the "Company") (AIM: HCL), an international provider of marine transportation services for dry bulk cargoes, announces today that M/V Konstantinos II is fixed under a time charter for about 6 to about 8 months with SwissMarine Services SA Geneva at a gross daily rate linked to the Baltic Exchange Panamax Index (BPI) Average of 4 Routes plus 12% premium with a guaranteed minimum floor rate of US$ 9, 000 gross. 
The charter commenced on 19 November 2013. The earliest expiration date is 4 May 2014 and the latest 3 August 2014.
The M/V Konstantinos II is a Kamsarmax vessel with a carrying capacity of 81, 698dwt built 2013 at Zhejiang Ouhua Shipbuilding Co. Ltd, China.
About Hellenic Carriers Limited
Hellenic Carriers Limited owns and trades through its subsidiaries a fleet of dry bulk vessels that transport  iron ore, coal, grain, steel products, cement, alumina, and other dry bulk cargoes worldwide. The fleet consists of five vessels, comprising one Panamax, one Supramax, one Handymax and two sister Kamsarmax vessels with an aggregate carrying capacity of 332, 476 dwt and a weighted average age of  9.9 years.
Hellenic Carriers is listed on the AIM of the London Stock Exchange under ticker HCL.