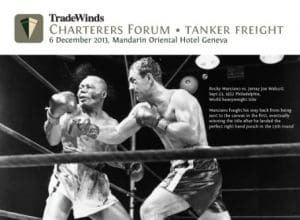 An exclusive meeting of top executives from the tanker sector will take place next Friday, 6th December, in Geneva at the Tradewinds Charterers' Forum.
The morning forum, to be held at the Mandarin Oriental Hotel, will bring together key players from all sectors of the business to stimulate discussion and debate how to best achieve commercial sustainability, and successfully meet the challenges posed by the changing face of today's tanker market.
Hot on the heels of the recent Geneva sanctions negotiations, the expert panel will examine the implications of the return of the Iranian fleet to the market. The weekend deal has already had positive repercussions with the easing of EU P&I restrictions on tankers and is purported to have a potentially positive impact on the crude tanker market, according to leading analysts.
Speculation is also rife as to whether the current bullish prospects being reported concerning the VLCC sector will truly play out. Crude tanker markets have taken a good beating in recent years, with US imports deteriorating and the dynamics of the trade altering dramatically whilst the issue of massive oversupply in tonnage still persists. Product tankers have fared better, with the changes in demand and global refinery restructuring resulting in increased tonne miles and the sector positioning itself as the smart choice to back in today's market….but is the crude tanker market about to stage a comeback?
Nicola Eyles, Tradewinds' Senior Conference Producer made the following comment regarding what she is expecting from the event; 'Industry opinion seems so divided on this, in one corner you have companies, like Navig8, that believe the pessimistic market sentiment regarding VLCC's simply does not match how the market is actually trading. Conversely, you see predictions from experts like Facts Global Energy that firmly give the upper hand to the product tankers. I'm anticipating a very engaging and possibly provocative set of discussions, we have a fantastic line up of panelists and some strong opinions on all sides!'.
The morning forum will combine a series of presentations and interactive debate and proceedings will conclude with a networking lunch at the elegant 5 star hotel venue.
TradeWinds Events is the conference arm of shipping news provider TradeWinds. We help move business forward through information exchange, stimulating fresh thinking and professional networking. We produce lively, independent and interactive conferences covering a wide range of maritime sectors, including ship building, ship recycling, marine insurance, maritime security, offshore shipping and technology, and vessel chartering. Each conference agenda is carefully designed to tackle the most topical and often controversial subjects. We do not offer time on the podium in exchange for sponsorship, but rather on the merits of the contribution and we continually appraise our performance via regular delegate feedback surveys