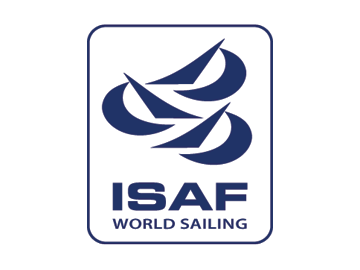 Date: Tuesday 3 December 2013 – A completely different set of conditions prevailed for the second day of racing at ISAF World Sailing Cup Melbourne.
In contrast to the high temperatures, fresh winds and blue skies of the opening day, racing in the first session of the day limped away in light southerly winds, with overcast skies, light rain at times, a cross-sea and plenty of postponements.
49er
Nathan Outteridge and Iain Jensen (AUS) enjoyed a positive return to the 49er at ISAF Sailing World Cup Melbourne showing the expertise and precision that won than a comprehensive Olympic gold over a year ago.
In a 12-boat fleet the Australians were dominant and opened up their first ISAF Sailing World Cup regatta of the 2013-14 series with double bullets and a third.
After racing Outteridge said, "It's nice to be back sailing the 49er. We've only really done one event, which is the worlds, since the Olympics so it's really good to sailing in Melbourne and it was a good day for us.
"It was a tricky day and one of those Melbourne days where it wasn't quite a sea breeze day. A puff would come in when the sun came out and you would get 10 knots and then it would shift 50 degrees left. It was a day where you had to sort of watch the sky to see what was happening."
Outteridge and Jensen have a narrow one point lead over Will Phillips and Rhys Mara and are wary of the threat their counterparts across the fleet pose, "Will is sailing really well and really consistent. Dave Gilmour and Sam Phillips won the other race so those two teams are pushing us a lot. The difference between first and eighth round the first mark is less than 20 seconds so it's tight racing and everyone's very close."
Gilmour and Phillips sit in third three points off the London 2012 Olympic gold medallists whilst further back British duo Stevie Morrison and Chris Grube, trialling out at Melbourne, occupy seventh place.
49erFX
Norwegian twins Ragna and Maia Agerup took an early lead in the 49erFX but were fortunate after some errors from their opponents.
"We won the first race but it was a bit of a coincidence because the people in front of us did the wrong course so didn't finish properly, " commented Maia after racing.
With a surprise opening bullet the Norwegians continued their good form to put together some consistent results on a changeable race course. A fifth followed before they ended their day with a second and Maia was happy with the way things went, "Racing was pretty good. We had pretty good conditions. The wind picked up quite a lot in the last one so we're quite happy."
The Norwegian twins lead on eight points followed by Tessa Parkinson and Chelsea Hall (AUS), Haylee Outteridge and Ella Clark (AUS) and Caitlin Elks and Tess Lloyd (AUS) all tied on 11 points.
Nacra 17
The Nacra 17 has drawn up a good fleet including two New Zealand crews, as well as some top Australian talent including multiple World Champion and Beijing 2008 Olympic silver medallist in the Tornado, Darren Bundock (AUS).
In the opening phases of the first race Bundock did not have his own way, lying fourth around the first mark. The pair budged up a spot to take third and whilst a fifth in the second race was far from what they were after they came through strong in the third race of the day to take the bullet.
First overall are the winners of the first race, the Australian combination of Euan McNicol and Lucinda Whitty. One point astern is Bundock and Curtis with New Zealand's Gemma Jones and Jason Saunders (NZL) in third.
Finn
Young Australian Jake Lilley holds on to his lead in the Finn class after adding two seconds to his bullets from day one. Closing the gap to just two points is Bjorn Allansson (SWE) who matched Lilley's perfect score on Monday with two bullets of his own. "I'm usually a slow starter, so I hope I don't fade this time, " Lilley commented.
Australians Oliver Tweddell and Brendan Casey are fighting it out behind them sharing third and fourth place finishes tying on 13 points.
Women's RS:X
The conditions were a little better for the RS:X fleets on the Stadium Course where the same light winds and difficult sea prevailed. Dominating the fleet are a strong Chinese team and not only did they lead the way in the women's racing they also managed to rub salt into the Men's egos by catching them up on the race course.
Manjia Zheng made the best of the light conditions posting two firsts and a second to lie one point ahead of Qiaoshan Weng whilst World Cup Qingdao gold medallist Peina Chen is third.
Men's RS:X
In the Men's RS:X fleet, it was again China all the way, but without the same domination as seen in the Women's fleet.
Chuankun Shi leads Chunzhuang Liu and Zennann Fang but only two points separates the three of them.
Australian and New Zealand competitors make up the rest of the fleet, with Patrick Vos (AUS) in fourth overall and Tony Mackenzie (NZL) fifth overall.
Laser
Australia's Tom Burton holds a commanding lead in the Laser, ahead of Ashley Brunning (AUS) and Thomas Saunders (NZL). The World Ranked #1 won both of the day's races and commented, "It was a long day on the water, a frustrating time for race management but they were patient and we got in two good races. I seem to be in the right place at the right time, with plenty of speed."
Laser Radial
Tatiana Drozdovskaya (BLR) is well on her way to heal the hurt from Sailing World Cup Qingdao where she was pipped at the post for the gold medal and holds a substantial lead of eleven points over her nearest rival. Marketa Audyova (CZE) took the bullet in race three but consistency pays for Krystal Weir (AUS) who sits second overall. Qingdao gold medallist Dongshuang Zhang (CHN) is one point adrift in third.
Men's 470
It looked like day one would repeat itself as Mat Belcher and Will Ryan (AUS) kept their bow ahead of Sime Fantela and Igor Marenic (CRO) to win the third race of the regatta, with the Croatian crew placing second. But a black flag in race four saw the Australians whistled off the course by officials and left the way clear for Fantela and Marenic to win race four and claim the yellow jersey for Wednesday's racing.
Belcher and Ryan will be able to discard their BFD after five races are sailed but it leaves them with no margin for error in the rest of the regatta. Brazilians Geison Mendes and Gustavo Thiesen lie in third place overall, tied on points with the fourth place crew.
Women's 470
A new race leader has emerged in the Women's 470 event with Nan Zhang and Xiao Lv (CHN) finishing first in both races sailed. Consistent top three finishes place Jacqui Gurr and Amelia Catt (AUS) in second overall with overnight leaders Carrie Smith and Sarah Cook (AUS) dropping back to third.
2.4mR
Overnight leader Paul Francis (NZL) extends his lead in the 2.4mR posting his third bullet and a second place out on Cerberus Course. Chasing hard is Paralympian Matt Bugg who suffers slightly from an OCS in race 3 but consistent front of the fleet finishes keeps him third overall.
SKUD18
Another dominant day for Jovin Tan and Desiree Lim from Singapore sees them lead the five boat SKUD18 fleet by one point from Paralympic gold medallist Liesl Tesch with Duncan McGregor (AUS). Comfortable in third place are Amethyst Barnbrook and Brett Pearce (AUS).
Tracking
Tracking will be available throughout ISAF Sailing World Cup Melbourne.
Video
Nacra 17 Sailors Ready For The Off
URL – http://youtu.be/ZpP9yiGe6ac
Embed – <iframe width="640″ height="360″ src="//www.youtube.com/embed/ZpP9yiGe6ac" frameborder="0″ allowfullscreen></iframe>
49er And 49erFX Fleets Enjoy Opening Race Day
URL – http://youtu.be/TSQfBjx2WYg
Embed – <iframe width="640″ height="360″ src="//www.youtube.com/embed/TSQfBjx2WYg" frameborder="0″ allowfullscreen></iframe>
News feeds containing interviews and b-roll of sailing action will be available from Thursday 5 December through to Sunday 8 December on the ISAF FTP. A log Sheet will be attached.
In addition, fully-produced highlight packages will be available from 6-8 December. These will contain interviews, action and results, including event graphics. These will be available to view on the ISAF YouTube Channel – http://www.youtube.com/SailingWorldCup
For FTP login details, specific requests and native language interviews please contact the ISAF Communications Department below.