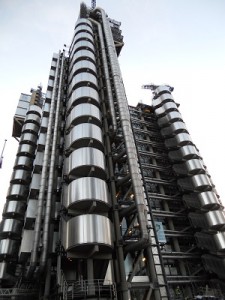 From concept to completion, designing and constructing large and innovative buildings is a continuous exercise in risk management.
When asked at what stage an underwriter gets involved with iconic building projects like the Lloyd's Building or 'the Shard', David Turner, Global Construction Practice Leader at Talbot Underwriting, says without hesitation: "Not as early as we'd like."
In the case of the Shard, Lloyd's underwriter Beazley was involved at a relatively early stage in the design process, says Turner, though the norm is for underwriters to be brought into a project when the design is well advanced, if not complete. "It's very rare for the market to be involved at an early stage – usually only when there is a significant prototypical element in the design features, shape or materials of the project, " says Turner.
He adds: "You don't want the insurance tail to wag the dog, but the earlier we can get involved the easier it is to fit risk mitigation into the design."
But that's not to say that there aren't already several pairs of eyes considering risk on these projects long before the underwriters are invited to participate. "Under current legislation we have a responsibility to design our risk as we go along, " says Mike Davies, Partner at Rogers Stirk Harbour and Partners architects of the now iconic Lloyd's Building, as well as Heathrow Terminal 5 and the Pompidou Centre in Paris.
This involves assessing from the drawing board stage whether a project can be done using the technology and techniques of the time or, as Davies puts it, "out on the edge" – such as the Millennium Dome (now O2 Arena) project, which at one point required 50 rock climbers doing construction work suspended by cables.
In this case, it was decided that the combination of high quality equipment and the rock climbers' experience operating in those conditions was safer than erecting scaffolding, and there were no accidents.
"You have to ask yourself whether you are asking people to do something unreasonable, or whether you can see them doing it safely. You design to take risk out, and where you can't take risk out you identify it, and you study the problem in detail. The biggest reduction in risk is by considering it – it's as basic as that."
Modern building techniques are reducing some risk elements, with an increasing portion of the buildings now prefabricated in factories rather than on building sites, which can be very cramped with vehicles, machinery, not to mention the structure itself – particularly in major cities where most sites are restricted by surrounding buildings.
"On site, you want to assemble, not build things. By maximising prefabrication and limiting the working time in less than ideal building conditions it helps reduce construction risks, and increases the cost and time certainty you have, " says Davies. The toilets and conference rooms in the Lloyd's Building, for example, were factory made and were each inserted into the building by crane in a matter of hours.
The use of cranes is now a real science noting that each lift is logged in extreme detail, taking into account factors such as weight, wind, and who is working below. "You end up with a book that is beautifully studied – it's like launching a Saturn 5 rocket, " says Davies. "It's an immensely complicated and very interesting subject. We all participate in the discussion."
Risk mitigation and transfer
When it comes to the erection of large and innovative structures, the majority of insurable risks are arranged by the various contractors involved in the construction process, but every participant in the project is involved in the on-going logging and analysis of risk in each project's risk register – a log to identify and monitor new, on-going and expired risks.
"There is a conscious formal process of risk assessment on any big construction site. Everyone is obliged to participate, report and think safe, and that has improved our site death rates enormously in the UK, " says Davies, adding: "Human death is the biggest risk on a construction site. One life is worth far more than building materials."
Fatalities and injuries are typically covered under employers' liability policies arranged by the contractors, while the architects, engineers and contractors would each be responsible for professional indemnity coverage, says Turner. However, the majority of building risks fall under an umbrella construction all risks policy (CAR) arranged by the project owner or contactor(s).
"That would be a single policy covering physical damage, primary liability up to around £5m and any element of consequential loss coverage taken out – for example delayed opening cover on a building designed to protect the banks if debt finance is involved. That would be a non-cancellable policy for the term of the project, " Turner explains.
While building materials and techniques have evolved, CAR insurance wording has largely remained the same, says Turner. Once this is in place, the underwriter and all other participants in the project take a proactive role in the painstaking and essential task of on-going risk mitigation as the project unfolds.
(source: Lloyds of London)