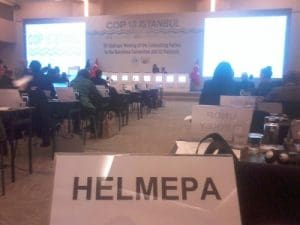 Representatives from across 21 Mediterranean States, the European Union and non-governmental organizations participated in the 18th Meeting of the Contracting Parties to the Barcelona Convention of the Protection of the Marine Environment and the Coastal Region of the Mediterranean and its Protocols in Istanbul between 3 and 6 December. HELMEPA took part in this important meeting as a United Nations Environment Programme-Mediterranean Action Plan (UNEP-MAP) partner.
The objectives of the meeting were to assess the progress achieved as a result of the various environmental programs undertaken in Mediterranean countries during 2012-2013 and to decide upon future actions that will promote sustainable development in the wider region.
Among the issues agreed upon, the adoption of a Regional Plan for Marine Litter that aims at the prevention and reduction of marine litter in seas and on beaches of the Mediterranean, putting firm deadlines in place until 2025, was included. Indeed, on this subject, during a side-event held in parallel with the meeting and organized in collaboration with MIO-ECSDE and MEDPOL, a staff-member of HELMEPA's Environmental Awareness Sector presented the Global Observatory for Marine Litter (GOML) and other recent initiatives undertaken by the Association that are designed to inform and raise the awareness of the human element in shipping towards facing this chronic pollution problem.
Other matters decided upon included;
The creation of a network of protected coastal and marine areas and a commitment to the application of protection and management measures
Application of the Ecosystems Approach towards achieving Good Environmental Status in the Mediterranean by the year 2020
The establishment of a network for the exchange of information, know-how and cooperation between competent authorities of the Mediterranean States for the enforcement of MARPOL requirements
A commitment to promote an integrated approach for environmentally friendly coastal city planning and to improve solid waste and sewage management