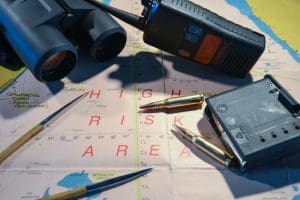 Manchester UK – Shipowners and Charterers should continue to take normal precautionary security measures when transiting through the Suez Canal, said Andrew Varney, Managing Director Port2Port Maritime Security in a recent webcast discussion: "Is the Suez Canal Safe for Shipping?" (http://goo.gl/GIpcYp) with the US Journal of Commerce.
With Egypt receiving in excess of $5bn from vessels transiting the canal, and the waterway providing obvious cost savings in transit times, Andrew said that, "The security of the Suez Canal is paramount and clearly something to safeguard. The risks to transiting the canal are manifest – political instability, physical attack, or commercial uncertainty – where in places the canal is only 150m wide and 24m deep and should a vessel be disabled or sunk, it would block this vital seaway for at least two weeks." With the brazen RPG attack on the Cosco Asia in September this year, this clearly demonstrates how susceptible vessels are to rocket and small arms fire. And with another incident occurring only recently where approximately 35 Egyptian policemen were wounded when a car blew up near their base in the Suez Canal city of Ismailia, insecurity and instability remains in the region.
He continued to state how a closure of the canal might affect the Shipping Industry financially, specifically with the effect on Maritime Contracts. "A central concern would be the frustration of existing shipping and charter party contracts, and whether a closure of the Suez Canal would indeed render those contracts unable to be performed. US and UK courts have routinely held that where vessels are not trapped, but merely required to seek an alternate route around the Suez Canal, the charter party will not be frustrated and the ship-owner might be required to perform the contract."
The current situation in Egypt does not presently involve hostilities with other nations, a key factor in past closings of the canal. As such, breakdown clauses, exceptions clauses, and war clauses in charter parties would likely not relieve performance under the charter. The onus is still very much upon both the Ship-owner to manage the risks to the vessel, but also the Egyptian Government to maintain a safe transit corridor. Private Armed Security cannot be used in the Canal, moreover, unarmed advisors can and are being used in an advisory role should an incident occur.
The Private Security Industry stands ready to assist clients operating in the area, but only within National and International legal frameworks. Andrew Varney concluded, "The Suez Canal remains a high risk area, where it is in everyone's interests to safeguard vessels and seafarers, however the continued instability is a worry where Ship owners and Charterers should take all reasonable steps to mitigate the risks to transiting this key shipping lane."
About  Port 2 Port
Port 2 Port Maritime Ltd. is a UK based, fully accredited and compliant Security Risk Management Company specialising in the delivery of maritime protection services. Our management team combines expertise from the worlds of shipping, oil and gas and wider security industry to deliver a truly world class product. With a reputation for excellence in service, professionalism and reliability, we are redefining standards in the maritime security industry. Andrew Varney founded the Company in 2011, its Head Office is in Manchester with regional offices in Singapore and Korea and a sister company Port2Port West Africa registered in Lagos, Nigeria and regional office in Accra, Ghana. www.port2portuk.com / www.port2portwestafrica.com