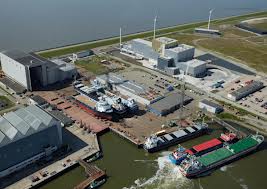 The first of two Damen Twin Axe Fast Crew Suppliers has officially been handed over to British company Sure Wind. A specialist in the German offshore wind market, Sure Wind already has work for the two newbuild FCS 2610 vessels. The first vessel Sure Star will head straight to Esbjerg and will then be deployed in the German market. A second sister vessel, Sure Swift will be delivered end-February.
Established in 2009, Sure Wind now has 10 dedicated wind farm service and crew transfer vessels but this is the first time the company has ordered a Damen vessel. However, Sure Wind owns the first FCS 2610 ever built – the pioneering 'Shamal' – which it acquired from another British offshore wind company in July 2013. This vessel was then renamed Sure Shamal.
Andrew Bagshaw, Operations Director Sure Wind Marine Limited, comments: "We were very pleased with Shamal's performance and have been keen to buy a new Damen FCS 2610. This design is very popular with crew transfer and energy companies because of its excellent seakeeping abilities. And indeed, wherever we are tendering clients are asking for the 2610."
Going further offshore
"We also operate 20 m DNV classed vessels, which are mostly employed in Germany or Denmark as they have the German Equivalence Certification. We wanted to get larger vessels, especially because more and more offshore wind farms are going further offshore." It is also very important that the vessels are classed in line with German requirements, he stresses.
Fast delivery
As well as this, fast delivery times were crucial for the company. The Sure Star was only ordered in the September last year. Other companies are typically offering delivery times of 18 months to two years, Mr Bagshaw adds.
"We are very optimistic about prospects for the market, particularly in Germany and Denmark and France is also starting to get underway. We certainly don't exclude the possibility of other Damen FCS 2610 orders or other offshore vessels. We are really expecting this market to flourish."
Arjen van Elk, Damen Sales Manager UK & Ireland, says: "It is great to see Sure Wind take the decision to buy two newbuild vessels after seeing the Shamal in operation – the very first vessel of the 2610 series. Their two new vessels have an extended wheelhouse and much more accommodation."
Stock
The FCS 2610 is being built at Damen Shipyards Singapore, which is a Group specialist in high-speed aluminium craft. Mr Van Elk: "We are building the FCS 2610 for stock to keep up with demand and soon we will have built some 40 of these vessels in just three years!"
About the Twin Axe Fast Crew Supplier (FCS) 2610:
The FCS 2610 design facilitates the safe transfer of personnel onto platforms or wind turbines at wave heights of more than 2.5 metres. The vessel has a maximum speed of 26 knots (with a range of 1, 200 nm, depending on sea state). The Damen double Sea Axe Bow hull means that resistance is low, leading to excellent seakeeping behaviour and low fuel consumption. Classed by Bureau Veritas, the vessel operates under the Workboat Code, Category 1.
The 26 x 10 m vessel offers accommodation for a crew of four and up to 12 passengers. With ample working and storage space on deck it is possible to load various types of cargo with the onboard crane (20 tm), incl. either two 10" containers or two 20" containers. Furthermore, the vessel has a spacious rescue platform, HP cleaning unit, a three-point mooring system and extra mooring winches.
10 stock vessels
In order to fulfil growing demand for the FCS 2610 some 10 vessels are currently being built for stock. Part of this stock can be outfitted and finished according to customer demands. Damen's standardisation and stock-building philosophy enables it to offer very short delivery times.
Smaller version built for stock
Four FCS 2008, the smaller sister of the 2610, are also under construction.
History
Introduced to the market in June 2011, the Damen Twin Axe Fast Crew Supplier 2610 has already established itself as "The Industry Standard" for the offshore wind market. However, the vessel is suitable in multiple roles and provides a very stable platform for diving, surveying and support, being able to carry two 20" containers and it can work with jack-up platforms. The type can be used to deliver cargo to platforms and carry out crew transfers to and from the platform via man baskets, due to its large deck space forward.
Damen Shipyards Group
Damen Shipyards Group (est. 1927) operates more than 55 shipyards, repair yards and related companies worldwide. Damen employs over 8, 000 people in 35 countries, has delivered over 5, 000 vessels since 1969 and delivers some 150 vessels annually to worldwide customers. Based on its unique, standardised ship-design concept and short delivery times, Damen is able to guarantee consistent quality.
Damen's focus on standardisation, modular construction and keeping vessels in stock leads to short delivery times, low 'total cost of ownership', high resale value, proven technology and reliable performance. Damen offers a wide range of products, including: tugs, workboats, patrol vessels, high speed craft, cargo vessels, dredgers, offshore support vessels, oil-spill response vessels, frigates and super yachts. For nearly all vessel types Damen offers a broad range of Services, such as Lifecycle Maintenance Services, Customer Finance, Training and transfer of (shipbuilding) knowledge.
In addition to ship design and shipbuilding, Damen Shiprepair & Conversion offers a network of 16 ship repair & conversion yards worldwide, most of which are conveniently located along the North Sea coast from Brest (France) to Gothenburg (Sweden). Damen Shiprepair & Conversion operates 40 dry docks of all types and sizes and offers onsite/onboard repair services. Conversion projects range from refitting small fishing vessels into private yachts to the complete conversion or rebuilding of large jack-up rigs.