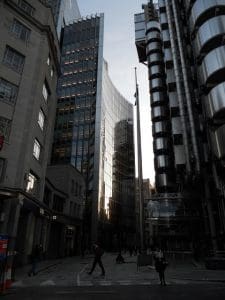 Monday 20 Jan 2014 – The launch of three new syndicates at Lloyd's is a sign that insurance investors see the market as a strong platform for growth. (source: Lloyd's of London)
Despite challenging conditions in the global insurance market, the Lloyd's brand is going from strength to strength in 2014 with three new syndicates underwriting from 1 January 2014.
Lloyd's Director of Performance Management Tom Bolt believes the new entrants represent a strong sign of growth for the Lloyd's market: "Though trading conditions remain challenging, by working with capable and strong business partners we work towards a common goal of strengthening the Lloyd's franchise."
Pembroke Managing Agency Ltd has set-up Acappella Syndicate 2014, a conversion of existing Special Purpose syndicate (SPS) 6110, which was established by Pembroke in 2012. Syndicate 2014 is targeting £60.5m of premium in its first year and has a £75 million stamp capacity.
David Bruce, formerly of Hiscox and the new syndicate's Active Underwriter, is excited about getting underway now the business has been agreed by Lloyd's. "It was a long journey because Lloyd's is rightly very rigorous, " he told Lloyds.com. "But it was worth it because while special purpose vehicles have a very valuable place in the market, it is often easier to attract the best staff when you are a syndicate in your own right."
Lines of business underwritten by Acappella include property treaty, personal accident and contingency. Bruce is planning to add political risk insurance later this year.
Another new syndicate, AXIS Syndicate 1686, has been formed by Bermuda based insurance group AXIS Capital Holdings, and is a shift of its existing portfolio of specialty lines business from other underwriting entities within the AXIS Group. It will be managed by Asta Managing Agency Ltd under a so-called "turnkey" arrangement.The syndicate is expected to have a stamp gross premium of around £119m for 2014, most of which will come from AXIS' existing portfolio of diversified specialty lines.
Active Underwriter Alistair Robson told lloyds.com that AXIS Syndicate 1686 will underwrite specialist classes such as marine, energy, aviation, terrorism, property, casualty and professional indemnity. "Our focus is on meeting clients' coverage needs whilst managing appropriate exposure levels for the new syndicate, " Robson said.
Meanwhile, Duncan Dale is leading a new start-up venture, Syndicate 1729, backed by US-based ProAssurance Corporation. Medical professional liability specialist ProAssurance has committed up to $60m of capital for the first year of operations of the syndicate, with a six-year commitment of up to $200m through 2019.
Through ProAssurance's commitment to bring new business into Lloyd's, it will supply a block of new medical business to the venture, around half of the casualty account in year 1, Dale pointed out. "ProAssurance is a cornerstone investor in the business and a minority shareholder. But the syndicate has a spread of capital behind it, " he said. "We are starting with three main tranches of business: US casualty (insurance and reinsurance), which is my background; a property reinsurance portfolio that will be underwritten by Chris Sharp and a property insurance portfolio that will be underwritten by Ian Bridge."
Each of the three new syndicates has a long term strategy predicated on Lloyd's global franchise and recognised financial strength rating.
"It is a cyclical market and conditions are challenging. But there are always pockets of opportunity and with the support of our capital we aim to build a quality underwriting platform for the long term, " Dale said. "The Lloyd's market is in a good position. It is financially secure, with the past ten years producing particularly good results. There are some challenges ahead – around underwriting profitability and excess capital – but we consider Lloyd's to be in very good shape."
AXIS' Alistair Robson agrees. "As our global specialty lines business has grown, this is a natural progression for us and a way to continue to evolve and enhance the AXIS franchise on a worldwide basis, " he said. "The Lloyd's market is an attractive platform with a strong brand and access to business and licenses across the globe."
Acappella's David Bruce believes the Lloyd's market itself will be further strengthened by the arrival of new business. "Our objective is to bring new business into Lloyd's, to source our own business. I believe we will add to the knowledge and strength of the Lloyd's market, " he told Lloyds.com. "We are proud and protective of the Lloyd's brand because ultimately we trade on Lloyd's strong rating. For us, that's the big benefit of being part of Lloyd's as a start-up."