NSSLGlobal opens teleport in Perth to extend VSAT Ku-Band network
New teleport in Perth, Australia supports satellite beam in South Pacific 
Surrey, UK,  23rd January 2014 – NSSLGlobal Ltd, the independent service provider of satellite communications, has opened a new teleport at the Perth International Telecommunications Centre, Perth, Australia. The additional hub allows NSSLGlobal to extend its existing VSAT Ku-Band network in the South Pacific region to cover Australia and New Zealand thereby meeting customer demand for a local point of presence in the growing Australasia market.
The teleport's first operational beam will be Eutelsat's E172a South Pacific satellite beam, which will be integrated into NSSLGlobal's DVBS2-RCS2 network. This latest extension makes NSSLGlobal's Cruise-IP and Broad-IP services the most comprehensive coverage in the industry, encompassing six teleports and 20 satellite beams.
The introduction of the E172a beam is due to the high demand from global maritime & super yacht markets for seamless service across Australasia with additional beam/Hub duplication for redundancy and to eliminate blockage. It will also provide a meet me point for Australian head quartered customers in the maritime, oil and gas, mining and media markets who wish to terminate their satellite global connection in Australia.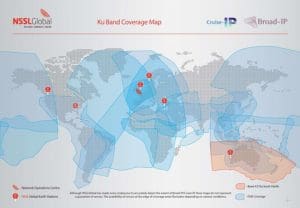 Sally-Anne Ray, Managing Director, NSSLGlobal commented: "Our investment in a new teleport in Australia shows our commitment to our customers in Asia and Australasia and comes on top of our sales and support office in Singapore. We are committed to providing our customers and partners the highest quality satellite communications across the globe and will continue to add to the geographic reach of our network as satellites become available."
The Perth teleport is now open and the E172a South Pacific beam is live and available to all existing and new customers.
About NSSLGlobal 
NSSLGlobal is the leading provider of global satellite services on land and sea. Based in nearly 40 markets around the world, NSSLGlobal provides satellite services on land, online and on board.
The company is an Inmarsat Distribution partner for GSPS, BGAN and FleetBroadband and a world class network provider, with its own DVB-RCS2 network supporting in excess of 750 vessels and land sites worldwide. Contracts are supported by a 24 hour-a-day sales support and technical helpdesk, 365 days a year.
Established: 1969
Core Business: Global satellite solutions provider on land and sea.
Sectors served: Corporate, Finance, Government, Maritime, Media, Military, Offshore, Oil & gas
Customers: Maritime customers include Teekay Shipping, BW Gas and Shipping and Shell Tankers while media relationships comprise of Reuters, BBC, ITN and Associated Press and oil & gas customers consist of Transocean and Diamond Offshore.
Head Quarters: 6 Wells Place, Redhill, Surrey, RH1 3DR, UK
Sales & Support Offices: Singapore, New Orleans, Houston, Irvine (California) & United Kingdom
Contact details: Telephone: +44 (0) 1737 648 800
Email: enquiries@nsslgobal.com
Website: www.nsslglobal.com