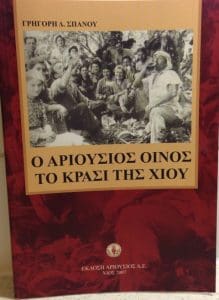 Ariousios, the wine of Chios, John Faraclas writes:
The industrious people of Chios, the fifth largest Greek island in central eastern Aegean Sea, are not just famous because they rule the seven seas with their shipping fleet, nor because they are  effectively the only growers of the mastic gum bushes which produce the EU designation-protected mastic, the blessed substance with thousands of uses, nor because of the claim that Homer was born on their island, but soon the world will learn of their unique wines!
Chios was the only Aegean Island where there was no systematic production of bottled wine, even for the use of its inhabitants. Despite some areas being "listed" as vineyards, they were abandoned due to severe population reduction…
Despite all the tribulations that one can imagine them facing, a few brave people from this island  bearing such a glorious past, embarked on plans to halt the degradation of the wine industry and rejuvenate in this fertile but difficult Chian soil the vision of producing again the famous Ariousios wine in its birthplace.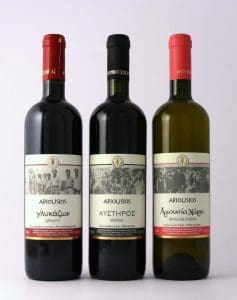 This book written by Gregory D. Spanos, a renowned Chian historian and archaeologist, complemented by Anna Lago's editing skills and supervision, gives the reader an incomparable account of wine making on Chios from antiquity to the current date, and I am sure that soon with its English translation will find a welcome home in every house, office and ship; needless to say that since the producers of Ariousios have begun their first exports, the wider public will be delighted to indulge in tasting the wine of the Chian kings, the heroes of Troy and far beyond.