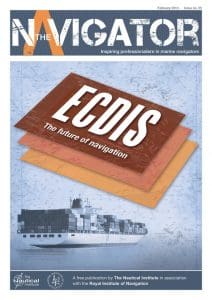 7.2.14 – The Nautical Institute examines the rise of ECDIS, its strengths and weaknesses compared to paper charts and the vital importance of continuous training in the technology in the latest issue of its specialist publication, The Navigator. The 12-page magazine, aimed at marine navigational officers at all stages in their career, is available now.
Editor of The Navigator, Emma Ward, said: "Our readers regularly come across different types of ECDIS onboard ships that they have either never set eyes on before, or for which they have received only rudimentary training. As focus shifts from using paper charts to relying on this type of technology, it is more important than ever that navigators know how to use the different ECDIS systems as thoroughly as possible, to ensure the safety of the crew, cargo, ship and environment under their watch."
Articles in the fifth issue of The Navigator include analysis of IMO ECDIS training, as well as feedback from The Nautical Institute's Seagoing Correspondence Group on the importance of familiarisation training. Other features range from an interview with a third officer, who is also a volunteer delegate for NAMEPA (the North American Marine Environment Protection Association), to a discussion comparing ECDIS to the standard car sat nav system.
David Patraiko, Director of Projects for The Nautical Institute, added: "ECDIS is the future basis of navigation in the world's merchant fleet. It is essential that navigators of all ages and experience learn how to use ECDIS to make the best decisions possible. We are delighted to be focusing on this key technology in The Navigator this issue."
The Navigator is produced by The Nautical Institute with support from the Royal Institute of Navigation. It is available in printed format or as a pdf on The Nautical Institute website. Printed copies are currently distributed alongside The Nautical Institute's membership magazine, Seaways, as well as through missions and maritime training establishments.
The Nautical Institute is the international representative body for maritime professionals involved in the control of sea-going ships and with an interest in applied nautical science. Its purpose is to promote high standards of knowledge, qualifications and competence both afloat and ashore. We are a Non-Governmental Organisation (NGO) with consultative status at the International Maritime Organization (IMO).