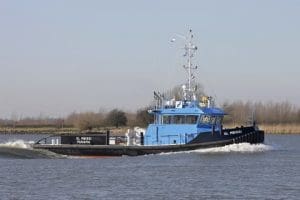 The recently delivered 'SL Mbissi' will be the next Damen-built vessel in fleet of Smit Lamnalco. Nonetheless, the 25 metre shallow water workship is special in more ways than one. Firstly, it's the first-ever Damen Shoalbuster for Smit Lamnalco.
Although Smit Lamnalco, leading provider of integrated marine services, already deploys a lot of Damen-built vessels – six of which having been delivered in the past 15 months alone – it had yet to order a Damen Shoalbuster SD. The series' name is a poetic licence to 'shallow draught' (SD).
Standard turned bespoke
The 'SL Mbissi' was built by Damen Shipyards Hardinxveld (the Netherlands) which also designs all Damen Multi Cat and Shoalbuster 'jack of all trades' workships series. The SBu 2508 SD is also special in that it is a standard design turned tailor-made vessel.
"We sought a draught not exceeding 1.80 metres, to cope with a bar in the vessel's operational area", Smit Lamnalco's CTO Rick Maliepaard says. "The shipyard's engineering added a good metre to their 23.8 metre long standard design and suggested lighter main engines, to get the draught down (or up if you will). It has taken a minimum 20 centimetres off the standard 2308 SD's draught, whilst still maintaining a truly potent 19.7 tonne bollard pull."
"By changing a proven standard design into a bespoke, 'made-to-measure' vessel, we've united our group's edge in both fields. Which itself is a unique selling point", Palle Bonemeijer, the project manager involved with Damen Shipyards Harxdinxveld adds.
Versatile
Smit Lamnalco will mainly deploy the versatile Shoalbuster for marine support services for offshore oil facilities. This will include buoy maintenance and hose handling.
Main characteristics of the Damen Shoalbuster 2508 SD:
Length o.a.                 24.82 m (2508)
Width                          8, 00 m (2508)
Draught                        1.80 m
Bollard pull                 19.7 tonnes
Speed                                    11 knots
Propulsion                  1, 360 bhp at 2, 100 rpm from 2 main engines.
 2 fixed pitch propellers in 1, 400 mm nozzles   125 bhp bowthruster.
Deck equipment          Feat. electrical towing winch 200m 40mm, 30t 6, 5m/min and 9, 5   24m/min. Brake 50t.
Accommodation         6 persons.
Smit Lamnalco
Smit Lamnalco is the leading provider of safe and efficient towage and associated marine services to the oil and gas terminal industry. With more than 190 vessels and over 3, 000 staff worldwide, Smit Lamnalco is dedicated to providing marine support services tailored to the operational needs of global customers in local markets. Active in over 30 countries, Smit Lamnalco specialises in bringing international standards on safety, logistics, mooring and towage to onshore and offshore operations in challenging environments. www.smitlamnalco.com
Damen Shipyards Group
Damen Shipyards Group operates 40 ship- and repair yards, employing 8.000 people worldwide. Damen has delivered more than 5.000 vessels in more than 100 countries and delivers approx. 180 vessels annually to customers worldwide. Based on its unique, standardised ship-design concept Damen is able to guarantee consistent quality.
Damen's focus on standardisation, modular construction and keeping vessels in stock leads to short delivery times, low 'total cost of ownership', high resale value and reliable performance. Furthermore, Damen vessels are based on thorough R&D and proven technology.
Damen offers a wide range of products, including: tugs, workboats, naval and patrol vessels, high speed craft, cargo vessels, dredgers, vessels for the offshore industry, ferries, pontoons and super yachts.
For nearly all vessel types Damen offers a broad range of Services, such as maintenance, spare parts delivery, training and transfer of (shipbuilding) know-how. To complete, Damen offers a variety of marine components, especially nozzles, rudders, anchors, anchor chains and steel works.
Damen Shiprepair & Conversion
In addition to ship design and shipbuilding, Damen Shiprepair & Conversion offers a network of 16 repair & conversion yards worldwide, with dry docks ranging up to 420×80 metres. Conversion projects range from adapting vessels to today's requirements and regulations to the complete conversion of large offshore structures. DS&C handles 1, 500 repair and maintenance jobs annually.